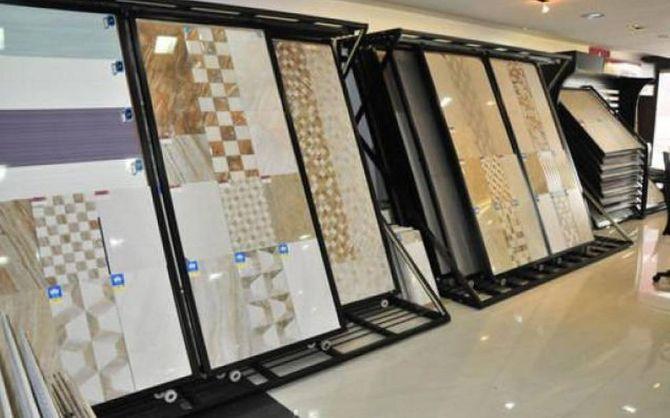 The ceramic tile manufacturing hub in Morbi, Gujarat, the country's largest with a turnover of around Rs 42,000 crore, could see its revenue suffer, after the Saudi Arabian government changed its technical requirements for the suppliers of ceramic tiles, sending the units in India scrambling to apply for certification.
But, only two manufacturers have bagged such a certification so far.
This has led the others to consider shutting shop as they are heavily dependent on the region for revenue.
Earlier this year, the National Green Tribunal (NGT) ordered these units to move from fossil fuel-based manufacturing process to carbon-friendly fuel, impacting their working capital amid a sluggish economy.
This double whammy of certification and green norms has led the manufacturing and export hub worrying about revenue.
The ceramic tile industry's turnover is estimated at Rs 50,000 crore, with Morbi forming 85-90 per cent of it.
According to Nilesh Jetpariya, president of Morbi Ceramics Association, earlier ceramic tiles and sanitaryware manufacturers were free to export to the West Asia region.
Now, the Saudi Arabian Standards Organization has mandated registration for all exporters.
"The registration not only costs about Rs 18 lakh but the process takes around 1-1.5 months to be completed.
"Roughly half of the 800-odd units export to Saudi Arabia but only two have bagged the certification so far.
"If the registration takes time or the other units don't get the certification then it could severely affect exports," said Jetpariya.
Of Morbi's Rs 42,000-crore turnover, around 25-30 per cent comes from exports.
This figure was 40 per cent a couple of years ago.
This is where Saudi Arabia is important as it forms the largest export share at 20-25 per cent, followed by Europe and the US.
Other exporting destinations include Brazil, Africa and South Asia.
The capacity utilisation at the ceramic tiles and sanitaryware manufacturing hub is already strained.
According to industry sources, capacity utilisation at the ceramic tiles and sanitaryware manufacturing hub is down by 25-30 per cent in the past one year owing to a sluggish domestic and international economy.
Photograph: PTI Photo
Vinay Umarji in Admedabad
Source: