Biker Ballerina
It always makes me laugh when r/FemaleFashionAdvice refers to "witchy" anything because, 9 times out of 10, it turns out the person means "wearing a lot of black". I am sure that practicing Wiccans are tired of the rest of us co-opting their terminology. I admit I'm as guilty as any; I like the idea of looking witchy without really knowing anything about being an actual witch. But! Apparently there is something called fashion magick and, guys, I am about to fall down a rabbit hole!
Anyway, in the meantime, I decided not to call this lewk "Biker Witch" lest I unintentionally cause any eye-rolls in my audience. Tulle = ballerina, right? Are there any ballerinas in the crowd? No? Good. Biker Ballerina it is, then.
All kidding aside, this was a super fun outfit. I layered my distressed, vaguely dystopian cropped sweater over a very boho eShakti dress, thereby changing its vibe entirely. The leather jacket upped the coolness factor (if you ignore my inherent uncoolness, that is) and added some much-needed warmth. Mornings have been so nippy here lately – we're talking 40F on a good day, sigh. I have to say that this Mackage jacket is the real deal when it comes to warmth; the leather is so thick and there must be some extra insulation built in somehow, because I was nice and toasty.
Notes: eShakti dress (thrifted, $14); Art Point sweater (thrifted, $7); Mackage jacket (thrifted, $50); Clark booties (retail, $60).
Headmistress in Charge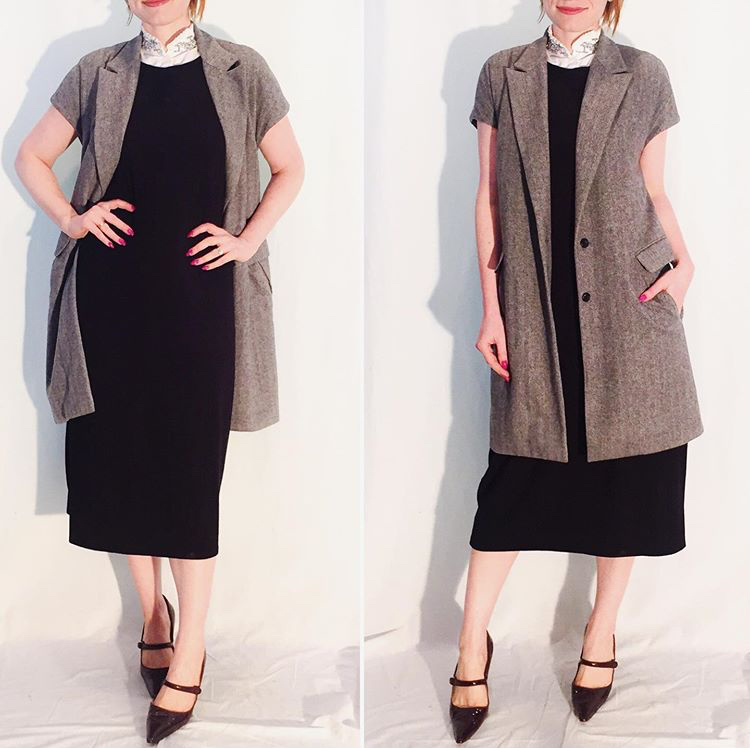 I love this outfit so much even if it looks like a nothingburger on first glance. All the details please me. The crisp white, bejeweled collar. The midi dress that's comfortable like pyjamas. The subtle herringbone vest. The classic Manolo pumps. I feel like a Woman Who Seems Very Responsible And Boring But Actually Has A Very Interesting Secret Life. I don't, but I like to pretend that I do. That is the power of clothes, my friends.
Notes: J. Crew top (thrifted, $6); Elizabeth & James vest (thrifted, $18); Ovate dress (thrifted, $8.50); Manolo Blahnik (eBay, $250ish?).
Formula on Repeat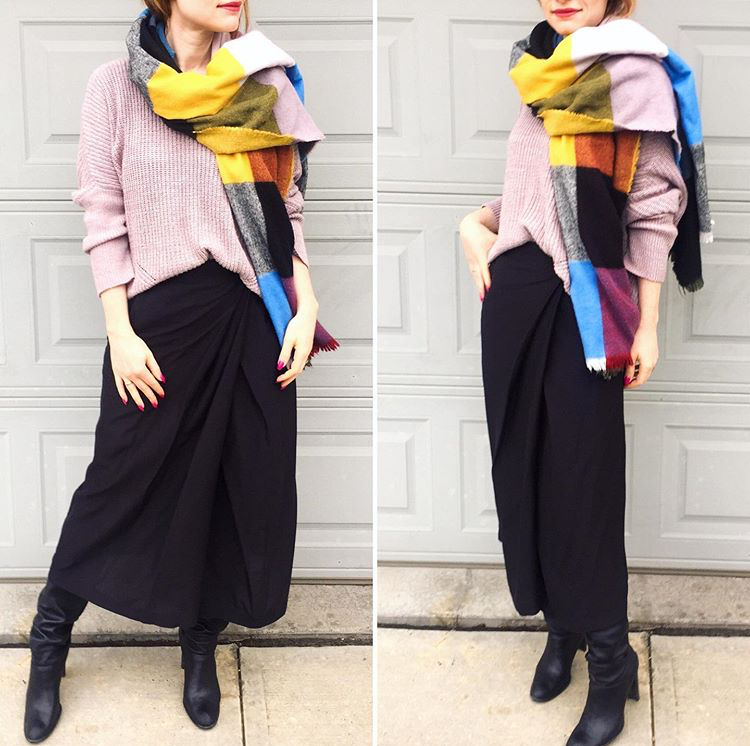 I have worn this sweater + scarf combo more times than I can count, and I never get tired of it. This light mauve/lilac colour is one of my favourites, and I wish it was easier to find because I want more of it in my closet. Can we call this "millennial purple" and get it declared a trend? Please and thank you. The scarf is a couple of years old now, but proof that fast fashion isn't always crappy quality. The skirt is a recent thrift find and I really dig its design. It's a faux wrap effect created by the front of the skirt folding back on itself. The fabric is a thick silk with nice weight to it which, hey, I will take over polyester any day of the week. The brand (Crea Concept) was not familiar to me when I bought the skirt, but I trusted my my assessment of the quality and bought it anyway; I've since learned that it's a French contemporary designer brand (for reference, sold at places like Blu's). Definitely worth the $8.
Notes: Moth sweater (thrifted, $7); Crea Concept skirt (thrifted, $8); Zara scarf (retail, $30ish?); Stuart Weizman boots (thrifted, $19).
Boyish Charm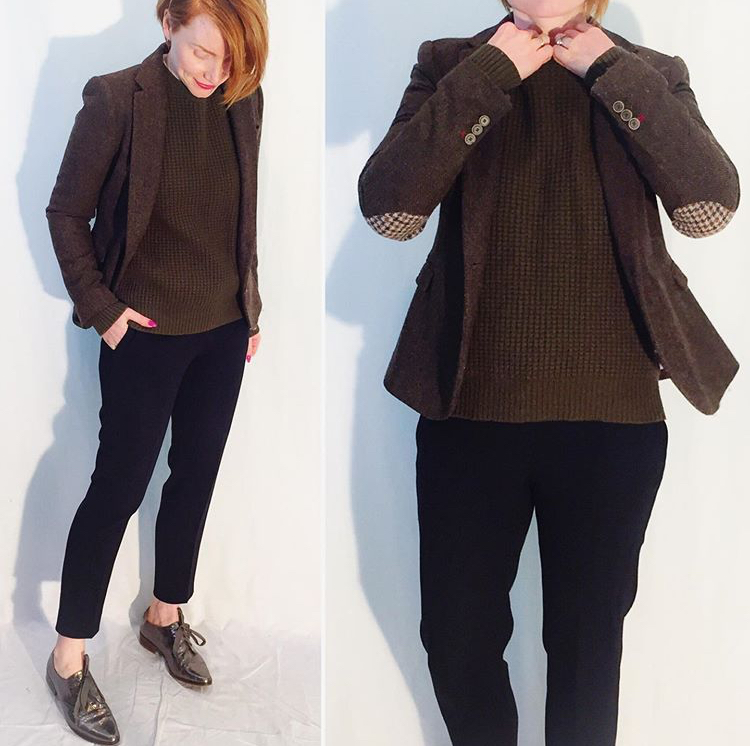 I've worn some version of this outfit before but it still works and why reinvent the wheel? Especially on a Friday. I love the woodsy colour palette; the brown tweed works very harmoniously with the mossy green of the sweater even if brown-and-green is not a combination that often springs to mind. The metallic loafers add just a bit of pizzazz to what would otherwise be a straight copy of the outfit that my husband wears to work every day.
Notes: AllSaints sweater (thrifted, $8.50); Zara blazer (thrifted, $9.50); Aritzia pants (thrifted, $8); Louise et Cie loafers (retail, $35).