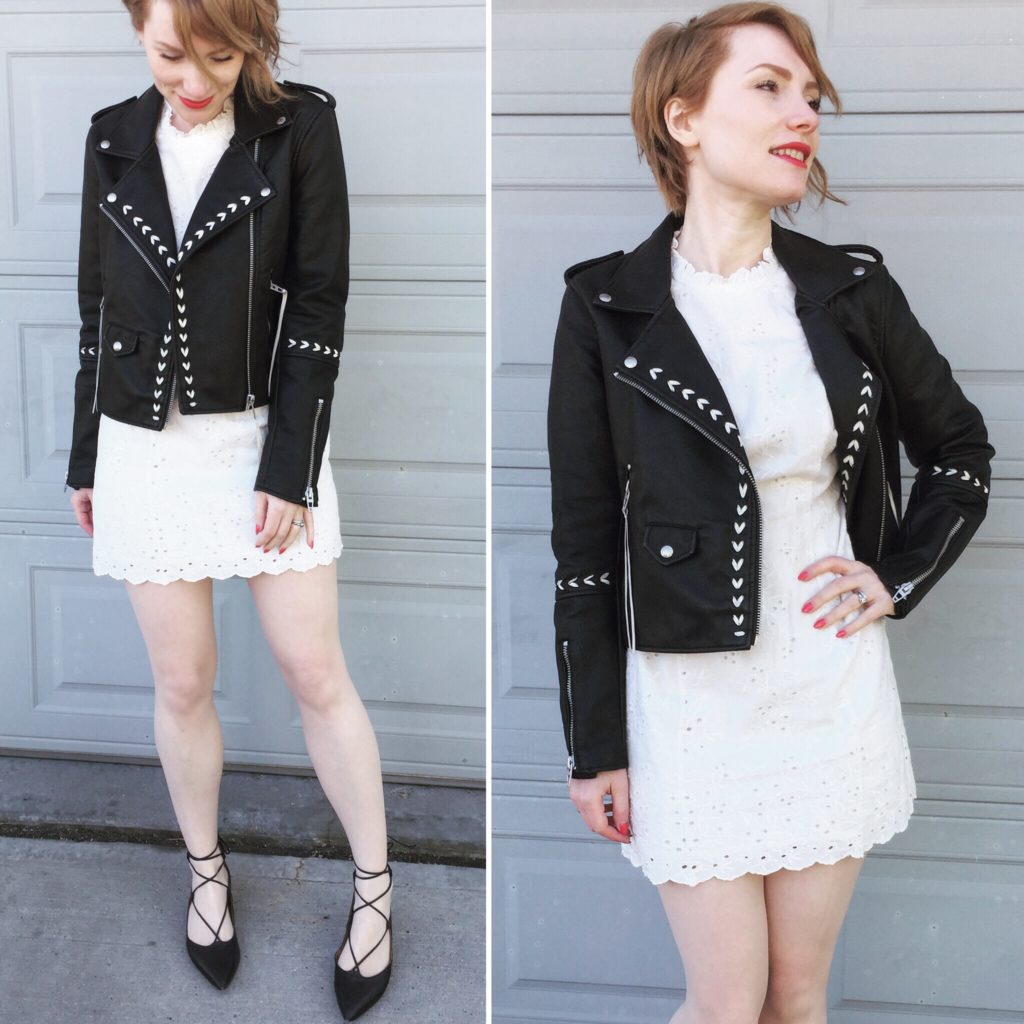 I feel like this outfit requires some weather-related explanation, but otherwise its genesis should be pretty obvious: what better juxtaposition than black leather and white eyelet? My BFF called this my "White Wedding" look, a nod to Billy Idol perhaps. As for the weather, it's been all over the place lately – alternating warm and cool, sun and rain, usually all within the same hour. This outfit hedged all my bets. It is a rare largely non-thrifted look, courtesy of Nordstrom Rack. That rarely happens, but I am a sucker for BlankNYC jackets and this Ulla Johnson dress was a crazy good deal. Justifications, I gots them.
Notes: Ulla Johnson dress (retail, $12); BlankNYC jacket (retail, $35); Napoleoni shoes (thrifted, $6).Chainmail Chic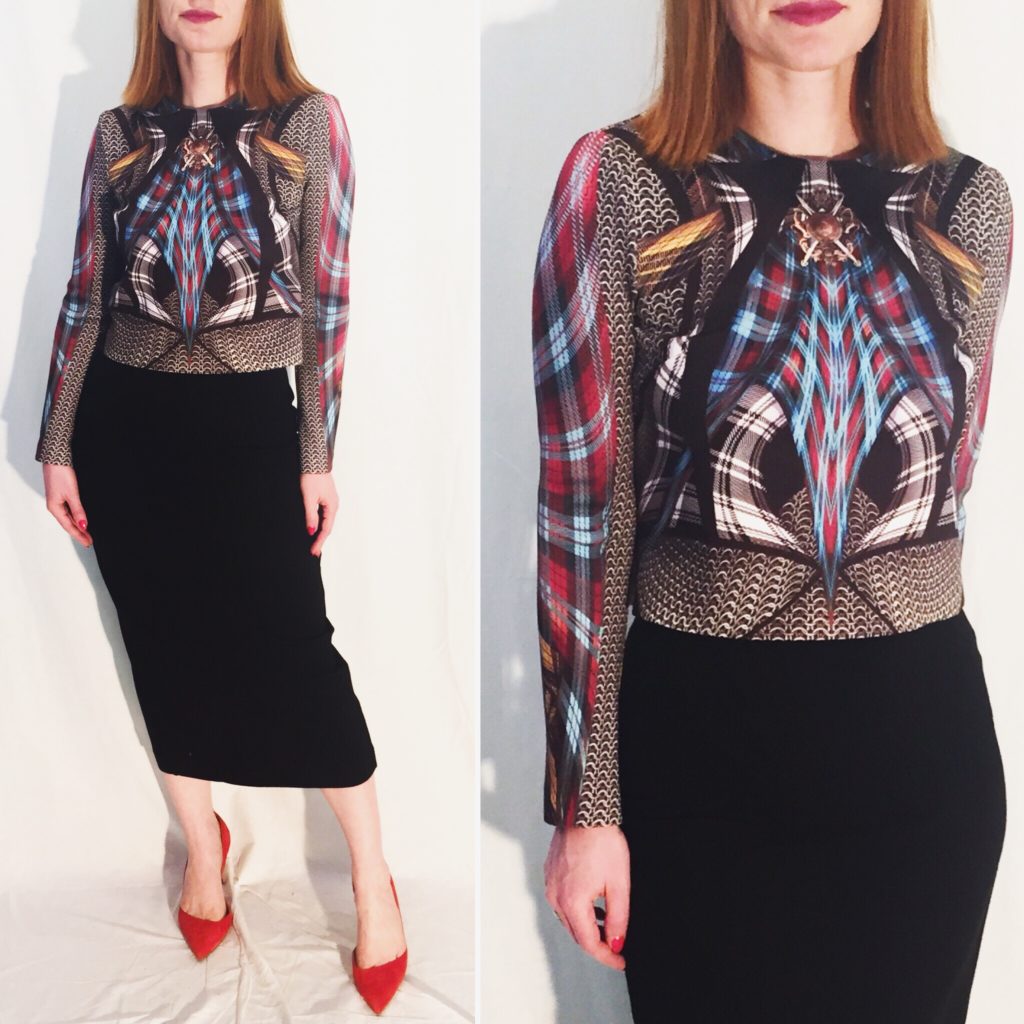 This is the Clover Canyon top I purchased secondhand in Calgary recently, and I couldn't wait to wear it. Up close, part of the print resembles chain mail which, from a psychological perspective, is perfect for a Monday morning. Talk about strapping on your (metaphorical) armor and tackling a new week's challenges. Because the top is a cropped length, I paired it with my trusty Aritzia high-waisted midi skirt to avoid flashing my pale midriff at unsuspecting co-workers. (I also wore a tank top underneath as an extra layer because, not gonna like, the scuba-like material of the Clover Canyon top is not my favourite right up against the skin.) I decided to add an extra pop of colour with the red shoes because … why not.
Notes: Clover Canyon top (secondhand, $24); Aritzia skirt (thrifted, $13); J. Crew shoes (retail, $80).
Artsy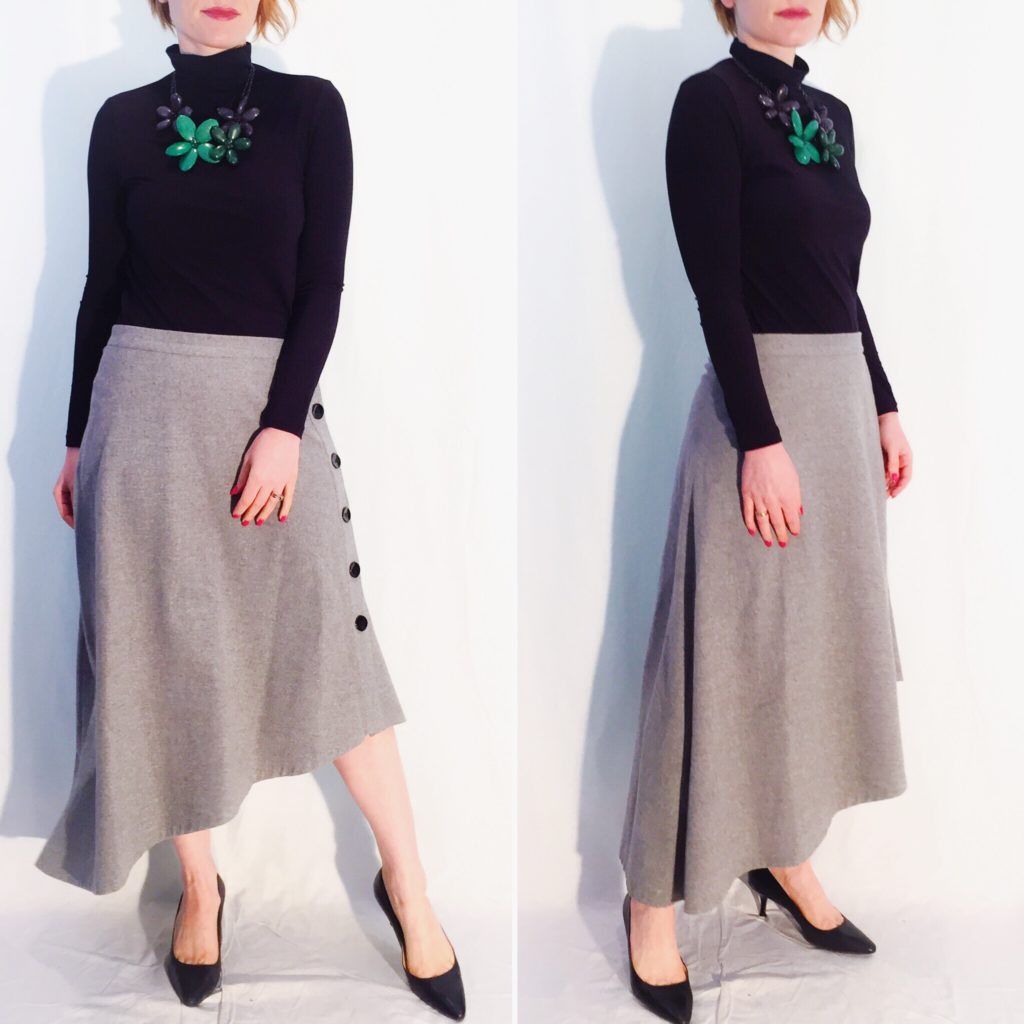 I want to say this is very "art professor" look but, honestly, I have nothing to base that on except my own imagination. Is this how art professors dress? This asymmetrical Zara skirt is super fun, but the proportions called for balance, so I wore a lightweight turtleneck. I added the chunky stone necklace because it's such a fun piece, and it works well with the skirt vibe (those big buttons!). I tend to avoid wearing necklaces with turtlenecks, but I think this worked; the top is almost more of a mock-neck, maybe that's why it didn't seem too clashy in my eyes.
Notes: Zara skirt (thrifted, $6.5); Oak & Fort top (retail, $40); necklace (thrifted, $4).Brutalist Friday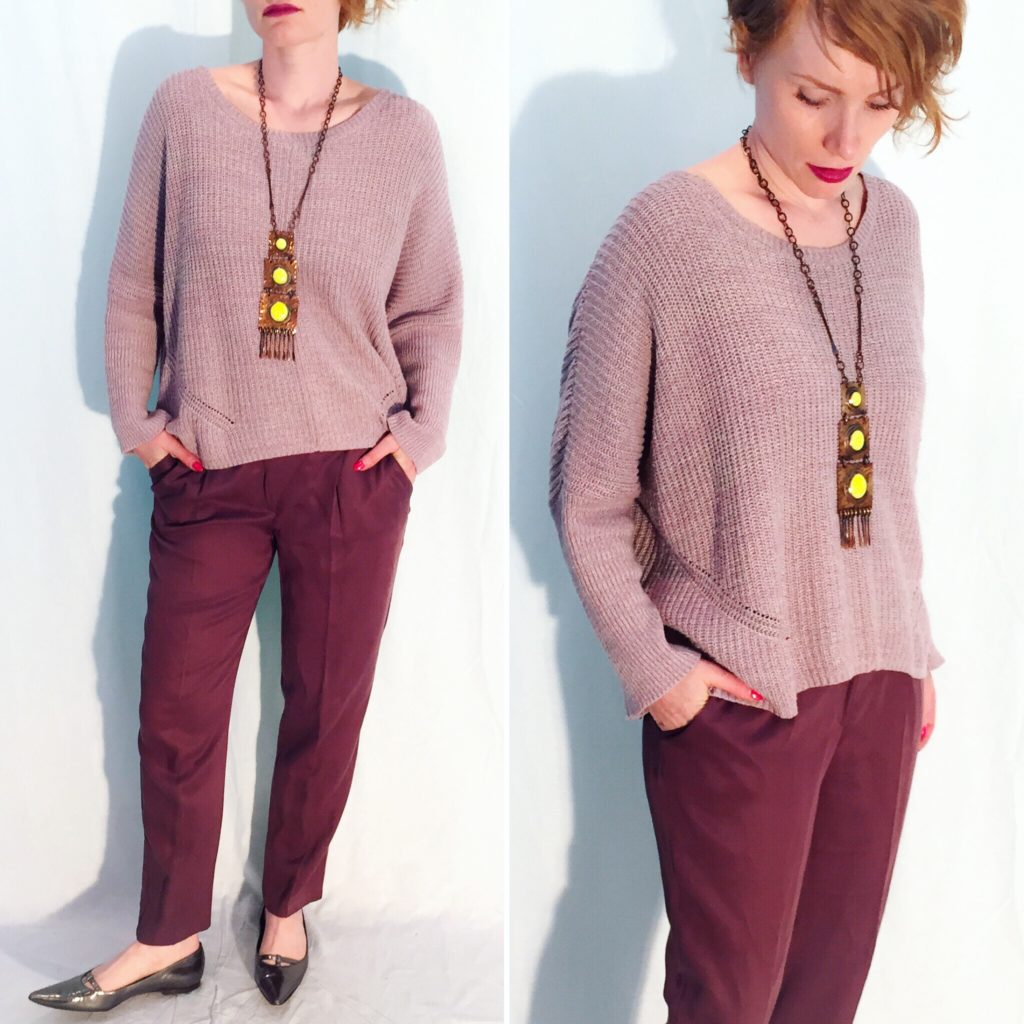 I am mostly posting this outfit because I am obsessed with this necklace and will take every opportunity to show it off. I was originally going to wear this outfit with a purple necklace – monochrome for the win! – but after thrifting this one, I had to switch it up. This kind of muted plum (mauve?) colour is one of my favourites, and the pop of yellow works so well with it. Have I mentioned how much I love this necklace? Separate post coming up …
Notes: Moth sweather (thrifted, $7); Cartonnier pants (thrifted, $8); Rafael Canada necklace (thrifted, $8).