BALSAM LAKE, Wisconsin – Sheriff's officials are serving up a warning: Even though temps are plunging through the floor this weekend, our relatively warm winter has created inconsistent ice in parts of Minnesota and western Wisconsin.
A fatal incident in Balsam Lake, Wisconsin Thursday stands as proof. Polk County Sheriff's officials say dispatchers received a 911 call just before 5 p.m. about a vehicle that had gone through the ice in the narrows between Balsam Lake and East Balsam.
RELATED: ATV falls through ice, DNR warns of conditions
Just over a half hour later first responders recovered the body of 63-year-old David Maki of Blaine from his Toyota Rav 4. CPR was started and Maki was transported to St. Croix Regional Medical Center and a medical helicopter was called for a flight to the Twin Cities. Unfortunately, he did not survive.
An ice angler in the Twin Cities was more fortunate. He was trying to cross a channel between two points on O'Dowd Lake in Shakopee when his SUV went through the ice. The 44-year-old man was able to escape, but things could have turned out differently.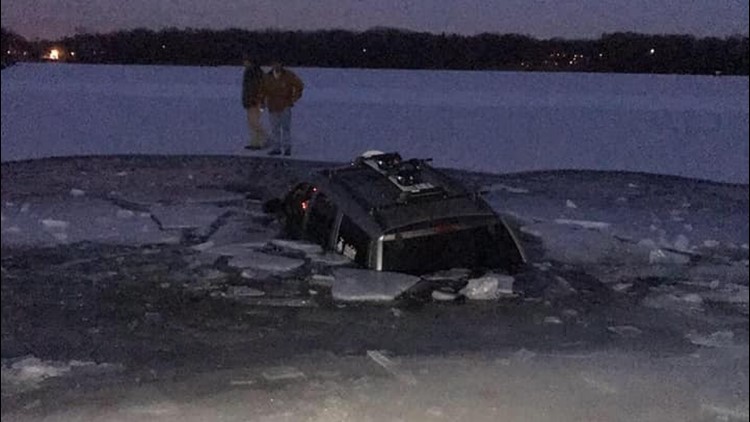 Mark Wangerin via Facebook
"It's unpredictable, you have to know the lake," emphasized Scott County Sergeant Bill Vendel, explaining that depth of water, sun exposure, and all kinds of other factors play a role in the thickness and quality of ice.
More from KARE 11: Fire destroys home, displaces 1 in south Mpls. Human remains found in Brooklyn Center Former teacher faces sexual assault, child porn charges
Vendel says wrecker crews are beginning the process of removing the truck from O'Dowd Lake Friday morning, at an expense the owner or his insurance company will have to cover.