The young protesters now on the march are responsible and mature-and they're asking adults to grow up.
Last weekend's march was not the first evidence of super-upstarts, aggrieved youths totally on top of their game in a way that few grown-ups in political life are these days. Two months ago, more than 100 sports-prodigies-turned-public-survivors made national headlines as they delivered their stunning version of the same call-protect us, and listen to us. At the sentencing hearing of Dr. Larry Nassar, convicted of serially abusing athletes under his care, his victims powerfully yoked personal trauma to a systemic indictment. "Adult after adult, many in positions of authority, protected you," said the former captain of the phenomenal U.S. Olympic gymnastics team, Aly Raisman, staring straight at Nassar. "How do you sleep at night?… You are the person [the USA Gymnastics and the U.S. Olympic Committee] had 'take the lead on athlete care.'… I cringe to think your influence remains in the policies that are supposed to keep athletes safe."
Related Story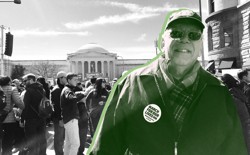 A Grandpa's-Eye View of the March for Our Lives
The reverse side of the "Sorry for the inconvenience" sign at the march aptly summed up the unexpected generational dynamic on public display: "When our children act like leaders and our leaders act like children you know change is coming." Today's young protestors-the Dreamers have been at this for a while-aren't extremist misfits, or out-of-control tweeters, or squabbling grandstanders. Their trademark is breaking the mold by being the ultimate model children. They win gold medals at the Olympics, write 50-page term papers on the U.S. gun-control debate, excel at the piano ( as the girl who first inspired Senator Dick Durban's DACA mission did). They strive not just to fit in but to soar in America.