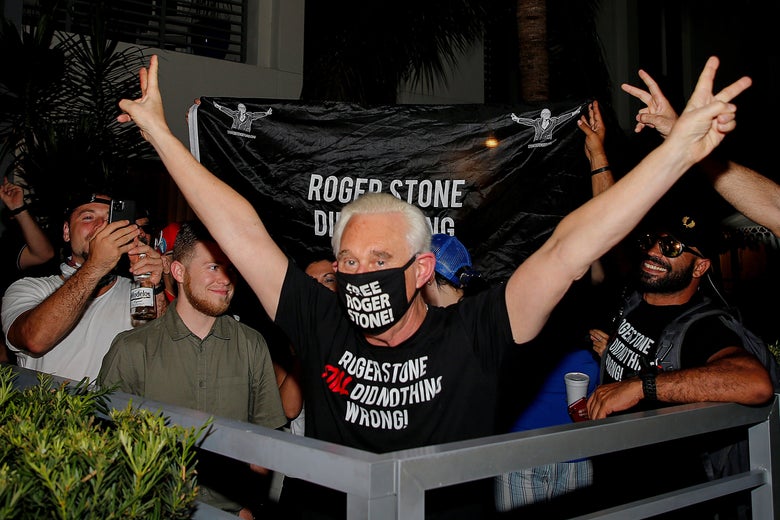 President Donald Trump did it. After hints and suggestions that he would, in the end, come through for his longtime friend, Trump took pen to paper and commuted the 40-month prison sentence of Roger Stone on seven felony crimes on Friday night. The move came shortly after a federal appeals court panel denied a last-minute effort by Stone to delay an order for him to surrender at a federal prison in Georgia on Tuesday. By granting a clemency rather than a full pardon, Stone's criminal record will remain intact even though he will be able to stay out of prison. Stone was in a celebratory mood last night and was grateful to his longtime friend for finally acting on his behalf. "The president has saved my life," Stone said. "And he's given me the opportunity to fight for vindication."
t
Why the President Didn't Want the World to Read Mary Trump's Story

t

The Political Genius of John Roberts

t

The Harper's Letter Is What Happens When the Discourse Takes Precedence Over Reality

t

Trump Vincibility Watch: Uh-Oh, Cycling at Random Through All-Caps Twitter Slogans Isn't Working Anymore
Stone had previously characterized any prison sentence for lying to Congress, witness tampering, and obstructing the investigation into whether Trump's campaign colluded with Russia as a virtual death sentence because of his age and history of asthma that put him in a high-risk group for the coronavirus. Even though he was grateful, Stone acknowledged the president's decision wasn't exactly shocking. "Well I was, I was elated," he said Friday night outside his home in Fort Lauderdale, Florida while wearing a face mask that read, "Free Roger Stone!" "Obviously I was somewhat relieved, but I was not surprised." Trump had hinted several times in recent weeks that he was getting ready to commute Stone's sentence.
The White House released a lengthy statement announcing the move that amounted to yet another effort by the president to discredit Special Counsel Robert Mueller's investigation into Russian interference in the 2016 presidential election. The statement was peppered with the sort of language that is common to read in the president's Twitter feed, including phrases like "collusion delusion," "witch hunts," and "Russia hoax." The statement does not actually claim Stone is innocent of the false statements and obstruction charges but rather was a victim of "overzealous prosecutors" who should have never gone after him because they did not file charges on the broader conspiracy claims between Trump and Russia. "Roger Stone is a victim of the Russia Hoax that the Left and its allies in the media perpetuated for years in an attempt to undermine the Trump Presidency," reads the statement that ends with a celebratory statement: "Roger Stone is a free man!"
Biden campaign reacts to President Trump commuting Roger Stone's sentence, accusing Trump of abusing his power. Full statement from @BillR: pic.twitter.com/tw0UPJQwqC

– Sarah Mucha (@sarahmucha) July 11, 2020
Democrats were quick to blast the president for the move, with former Vice President Joe Biden taking care to note the timing of the controversial action. Trump "once again abused his power, releasing the commutation on a Friday night, hoping to yet again avoid scrutiny as he lays waste to the norms and the values that make our country a shining beacon to the rest of the world," Biden said in a statement. Rep. Adam Schiff, who heads up the House Intelligence Committee said the move was "among the most offensive to the rule of law and principles of justice." Sen. Kamala Harris said it amounted to an illustration of how the justice system is not equal to everyone in the country. "Trump commutes the prison sentence of Roger Stone while the officers that killed Breonna Taylor are still free," Harris wrote. "The two systems of justice in this country must end." Sen. Elizabeth Warren said that Trump " truly is the most corrupt president in history."
Rep. Schiff says Pres. Trump's commutation of Roger Stone's sentence is "another appalling attack on the rule of law"

"There are two systems of justice now in America. One for criminal friends of the president like Michael Flynn and now Roger Stone – and one for everybody else." pic.twitter.com/vp2R21cLyI

– MSNBC (@MSNBC) July 11, 2020
Rep. Jerrold Nadler and Rep. Carolyn Maloney made clear lawmakers will be looking into the issue. "This transparently corrupt commutation damages public confidence in the justice system and the rule of law. Among other things, we intend to seek an immediate briefing from the White House Counsel on the circumstances surrounding Roger Stone's commutation," they wrote in a statement. "In addition, the Department of Justice should release grand jury materials related to Roger Stone and his communications with the President."
Trump defended the move Saturday morning, taking to Twitter to once again claim his longtime friend was victim of an unfair prosecution. "Roger Stone was targeted by an illegal Witch Hunt that never should have taken place. It is the other side that are criminals, including the fact that Biden and Obama illegally spied on my campaign-AND GOT CAUGHT!" Trump tweeted.