A Manhattan lawyer who threatened to call immigration enforcement on workers at a Midtown cafe — just because he heard them speaking Spanish — ran from an NBC News reporter who confronted him Thursday.
Aaron M. Schlossberg's rant was caught on video by a fellow customer, and has had more than five million views online in two days.
When confronted by an NBC News reporter on the street outside his apartment building Thursday, he refused to respond when asked if he wanted to apologize to the people he disparaged in his racist tirade.
He walked for several streets trying to catch a cab, never making a single comment or answering a question. After failing to hail a cab, he ran away from reporters.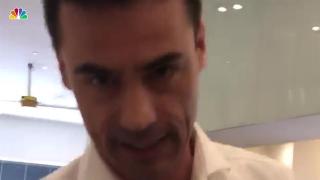 Fallout for the New York City lawyer since his racist rant went viral continued into Thursday. Security at the Madison Avenue building where Schlossberg has an office told The Daily News the attorney would be barred from entering.
"If he comes here, we're going to kick him out," a building security member told the newspaper.
Congressman Adriano Espaillat and Bronx Borough President Ruben Diaz Jr. also announced Thursday they were filing a formal legal complaint against Schlossberg. A Change.org petition to have the attorney disbarred was started by a member of the public, and had more than 9,000 signatories by Thursday.
The incident was recorded on Tuesday when office manager Emily Serrano went to get lunch at the new sandwich shop Fresh Kitchen on Madison Avenue between 39th and 40th.
She said she was speaking with her server – who speaks both Spanish and English – in Spanish, when she heard a man yelling next to her.
"He's screaming at the guy serving him, 'Give me my f***ing sandwich, you shouldn't be speaking Spanish, I feel disrespected, go back to your country,'" Serrano said. NBC 4 cannot independently verify what happened before or after the video Serrano shot.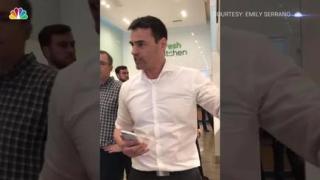 "Your staff are speaking Spanish to customers when they should be speaking English…every person I listen to…this is America!" he says.
Speaking about the Fresh Kitchen staff he goes on to say he guesses they're not documented. "So my next call is to ICE to have each one of them kicked out of my country. If they have the balls to come here and live off my money, I pay for their welfare, I pay for their ability to be here the least they can do is speak English," he says.
"If you intend on running a place in midtown Manhattan your staff should be should speak English."
After the video stops rolling, Serrano said the man "threw his sandwich in the area where they have the bananas."
He again threatened to call ICE and told her to, "Go back to Guatemala." Serrano is of Puerto Rican descent, born in New York. At that point she decided to call police. While on the phone to the dispatcher, Schlossberg left, she said.
A spokesperson for Fresh Kitchen said the staff were "in awe" of what happened. They said the cafe welcomes people from all cultures, and that everyone has a mind of their own. "But in public area, disturbing others or making comments like that is not right at all."=