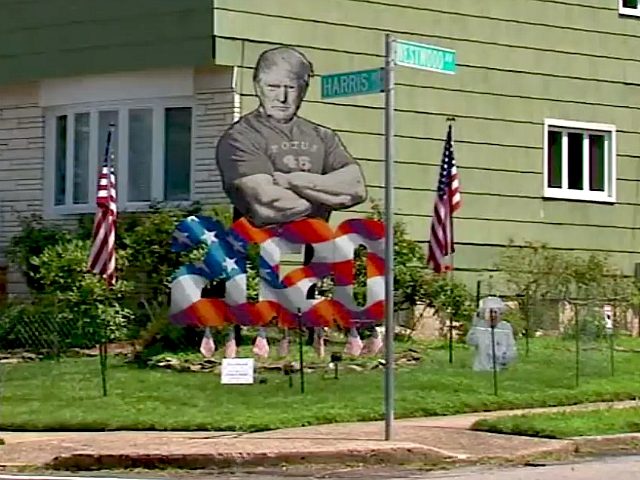 A conservative New York artist has erected a 20-foot pro-Trump installation on the lawn of one of his clients in Staten Island.
Scott LoBaido, who gained national attention back in 2015 after constructing a large 'T' for Trump sign for another Staten Island resident, said his latest artwork of President Trump standing over a star-spangled "2020" had forced his client to take additional security measures.
"He put up security cameras all around the house. We have a fence here. And everybody in the neighborhood is on watch," he told a local ABC affiliate. "Here's my display to provoke emotion … and they love it."
One of the neighbor's Joe Noga, told the outlet that he wished the installation were even bigger.
"I think a little bigger would be better. Taller!", he said when asked if the installation was too large.
However, others such as neighbor Jack Bender revealed they were not so keen.
"It's not intruding in my life," he said. "It's just sort of there, and for me, it's weird."
Staten Island is one of the few New York boroughs where Trump won more votes than Hillary Clinton in the 2016 presidential election, securing 57 percent of the vote compared to Clinton's 40 percent. However, in overall terms, Clinton won the state convincingly with 59 percent compared to Trump's 37.
Follow Ben Kew on Facebook, Twitter at @ben_kew, or email him at bkew@breitbart.com.