Meet the Death Metal Cowboys of Botswana. In black leather decorated with metal studs, they play a pounding style of music that people who know more than me trace to the British band "Venom" and its 1981 album Welcome to Hell. Question: Is this cultural appropriation? Why or why not?
The question is inspired by a spasm of social-media cruelty that caught wide attention last week. A young woman in Utah bought a Chinese-style dress to wear to her high school formal. She posted some photographs of herself on her personal Instagram page-and suddenly found herself the target of virulent online abuse.
For once, the story has a happy ending. Good sense and kindness prevailed, and instead of her prom being ruined, the young woman exited the dance buoyed by worldwide support and affirmation, most of all from within China.
Related Story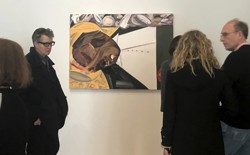 What Does 'Cultural Appropriation' Actually Mean?
Yet the idea persists that there is something wrong and oppressive about people of one background adopting and adapting the artifacts of another. Sadly often, these stories end as successful power plays enforced by local bullies.
At Oberlin in 2015, a Vietnamese American student shamed the dining hall into ceasing to serve its version of Banh Mi sandwiches.
Instead of a crispy baguette with grilled pork, pate, pickled vegetables and fresh herbs, the sandwich used ciabatta bread, pulled pork and coleslaw. "It was ridiculous …. How could they just throw out something completely different and label it as another country's traditional food?"
The references to "baguette" and "pâté" in a food product of a former French colony might have tipped off the angry Oberlin student that the banh mi is not quite as traditional a Vietnamese food as she imagined. When this exotic remake of a classic pate en baguette was first sold in the streets of Hanoi, the vendors called it "banh tay": literally "Western-style bread."
A Canadian university cancelled its yoga classes as culturally appropriating-notwithstanding that most of the strenuous moves taught in a modern class actually originate in Danish gymnastics and British army calisthenics, which were in turn appropriated by Indian entrepreneurs seeking to update yoga from a meditative to an active practice for the body-conscious modern age.
The cultural appropriation police answer the yoga and banh mi objections with a familiar counter-argument: it's about power. It's fine for colonized Indians to incorporate European fitness regimes into their yoga; wrong for Canadians of European origin to incorporate yoga into their fitness regimes.
But the trouble with that argument is that-like culture-power also ebbs and flows. Customs we may think of as immemorially inherent in one culture very often originated in that culture's own history of empire and domination. The Han Chinese learned to drink tea for pleasure from peoples to their south. The green flag of Islam was adapted from the pre-Islamic religions of Iran. The great west African kingdom of Benin acquired the metal for some of its famous bronze artworks by selling thousands of people as slaves to Portuguese traders.
All cultures have histories. Young people born in North America may imagine that their grandmother's recipes or wardrobe emerged autochthonously in a timeless ancestral homeland. But that only reflects how thoroughly they have Americanized themselves, reducing other countries' complexities to folklores to be fetishized rather than understood and evaluated on their own terms.