During a speech on Thursday, President Trump revealed a striking ignorance of one of the pillars of his country's educational system. In the course of promoting his infrastructure plan, he, a bit perplexingly, dismissed the country's community colleges, suggesting he doesn't know what purpose they serve. "We do not know what a 'community college' means," he told the crowd in an Ohio training facility for construction apprentices, moments after expressing nostalgia for the vocational schools that flourished when he was growing up-schools that offered hands-on training in fields such as welding and cosmetology.
He seemed to have a better grasp on these latter schools, analogizing them to the apprenticeship programs he was promoting in his effort to create 400,000 high-paying infrastructure jobs. The implication, as he brushed aside one form of higher education and lauded another, was that he'd like to resuscitate short-term training opportunities and phase out community colleges in the name of workforce development.
Related Stories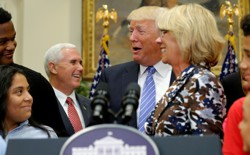 One of Trump's stated goals is to ensure that every American knows "the dignity of work, the pride of a paycheck, and the satisfaction of a job well done"-but he seems to be unaware of the vital role that community colleges play in realizing that vision. As Jeffrey Selingo wrote in The Atlantic earlier this year, the fastest-growing jobs in the United States require candidates to have training and education beyond high school, and community colleges, which typically offer associate's degrees, will be key to filling those openings.
Community colleges are not just a substantial part of the future of American education-they are a substantial part of its present. More than 40 percent of the country's undergraduates are currently enrolled in community colleges, according to the College Board, the higher-education research firm and test administrator. Preliminary federal data suggest that roughly 9 million undergraduates were enrolled in community colleges in the 2015-2016 school year. And with their low tuition (typically costing less than what federal Pell grants provide) and practice of letting in all applicants, community colleges serve as a pathway to the middle class for low-income and first-generation students. Further, one in three community-college students transfers to a bachelor's-granting institution within six years.