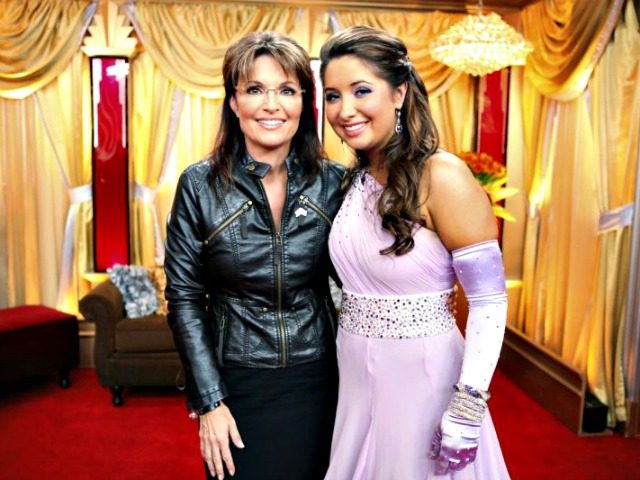 A Democrat Alaska state senator has contracted with a man convicted of felony stalking the daughter of former Alaska Gov. Sarah Palin.
Peter Paul Ferrero was arrested in September 2014 and charged with felony stalking of Bristol Palin after climbing onto a third story balcony of her house. He approached her when she arrived home to find him on the property and she fled. She and sister Willow Palin had received thousands of messages from the offender despite numerous attempts to make it stop. Each sister filed temporary protective orders against Ferrero.
Ferrero had been hired as an Alaska State Legislative page but was dismissed before long, according to the Alaska Landmine. The report cited sources that said the House Sergeant at Arms approved the hire.
Democrat state Sen. Tom Begich, whose brother former U.S. Senator Mark Begich (D-AK) has a contentious history with former Gov. Palin, contracted Ferrero for work despite the short-lived page position.
Ferrero volunteered for Tom Begich's 2016 campaign while on probation, according to a statement from Begich provided to the Landmine. Begich said he encouraged Ferrero to go to school and that, despite some setbacks, he had completed probation and earned a law clerk certification.
"When he found himself out of work here, I gave him a small contract to research crime statistics and to help me better understand how gangs get into Alaska, drawing on his own experience in the system and his research," Begich told the outlet.
Ferrero violated parole in 2017. He was arrested near the Palin home, according to court documents cited by the Blast. The report states that he became combative with police trying to arrest him and was accused of assaulting two. Police attested he twice tried to take control of an officer's firearm.
Ferrero has worked for other Democrat political campaigns. The Landmine reported that in 2018 he worked as campaign manager for Representative Chris Tuck. Tuck told the outlet that he met Ferrero first at one of his fundraisers in 2016. "Working with him, I was impressed with the insight he had on politics and decided to hire him on my campaign. He his a big heart for people and he did a fantastic job," Tuck said. The representative called Ferrero a "changed man" and was "surprised" to learn of his past.
Identifying himself as "Peter Paul," Ferrero participated in a meeting at the Alaska State Capitol in Juneau Tuesday. Near the end of the meeting one of the officials requested information on which office he was representing. After Ferrero hesitated and acted conflicted in answering the question, he eventually replied that he was there as a "private individual."
Michelle Moons is a White House Correspondent for Breitbart News – follow on Twitter @MichelleDiana and Facebook