A Massachusetts church is mixing faith and politics in its nativity display this year ― placing a baby Jesus figurine in a cage to provoke conversations about America's immigration policies.
Leaders at St. Susanna Parish, a Roman Catholic congregation in Dedham,hope the display puts a Christian perspective on controversial actions toward migrants at the U.S.-Mexico border and around the world.
"We wanted to put a mirror image of the world into the stable," parish priest Steve Josoma told HuffPost.
The traditional Nativity scene that Christians have become familiar with over the centuries features shepherds, wise men and animals huddled around Jesus, Mary and Joseph in a stable. The classic image demonstrates how people from different countries and social classes can come together in a "perfect symbol of peace on Earth," Josoma said.
St. Susanna's Nativity scene shows what happens when people find ways to build walls between each other, the priest said.
The scene shows baby Jesus in a black metal cage, separated from Mary and Joseph. The image of Jesus behind bars is meant to represent the plight of migrant children separated from their parents at the U.S.-Mexico border because of White House policies.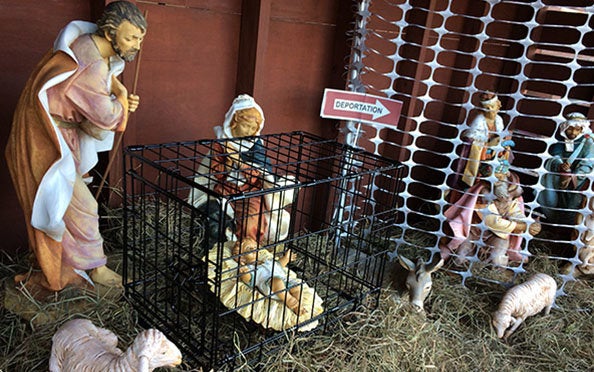 To the right of the scene, a fence creates a barrier between the Holy Family and the three wise men. A sign attached to the fence reads, "Deportation." Josoma said the wall is supposed to represent the southern border and other physical and metaphorical walls that Western countries have created to keep refugees out.
Above the stable, a blue banner reads, "Peace on Earth?"
Josoma said that the sign is meant to get viewers to ask, "Is this what peace on Earth looks like?"
St. Susanna's alternative Nativity scene is the brainchild of the parish's Pax Christi committee, a group that does outreach and education on nonviolence and peacemaking.
Josoma said the Nativity scene is an "affirmation of gospel values" and not just an attack on President Donald Trump and his administration. But, he added, some of the administration's policies are "at odds" with the message of the gospel.
"Soldiers firing tear gas at the border doesn't seem to be the way to go to bring out healing and reconciliation," the priest said.
The display, which was set up over the weekend in time for the first Sunday of Advent, has sparked criticism from some corners. Fox News host Sean Hannity discussed the display on his show Wednesday and claimed on Twitter that Christmas is "under siege."
ON #HANNITY NOW: CHRISTMAS IS UNDER SIEGE. A Massachusetts church puts baby Jesus in a cage to make a political statement. Watch NOW!

– Sean Hannity (@seanhannity) December 6, 2018
Josoma said that after the "Hannity" segment, he got calls from around the country accusing him of blasphemy and claiming that the parish's take on the Nativity is inappropriate. Some of his own church members weren't enthusiastic about the display, he said, and two people emailed him indicating that they'd decided to leave St. Susanna because of the Nativity scene.
The priest said he agreed that acage and a wall have no place in the Nativity scene ― in fact, he says, that was his point.
"People think children in diapers getting tear-gassed is OK, but this [Nativity scene] is totally sacrilegious?" Josoma said in response to the criticism. "All we're trying to do is put the two together."
"What you do to somebody else is what you do to Christ," he said, referring to a Bible passage that claims those who welcome strangers are in effect welcoming Christ himself. "You can't separate the two."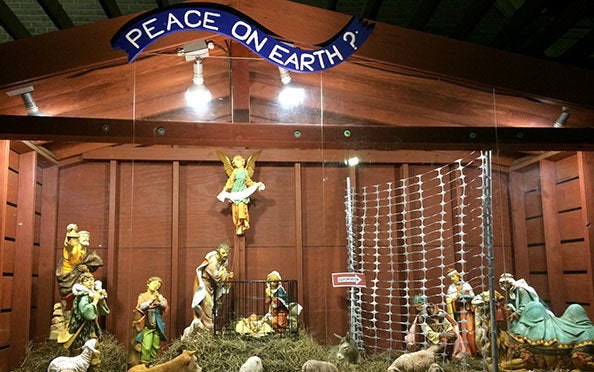 St. Susanna's activism around refugees isn't limited to its Nativity scene. Two years ago, the parish started working with Catholic Charities and two other local Christian congregations to sponsor a refugee family seeking to resettle in the U.S.
In September, the parishioners welcomed a family from Burundi to the community. Josoma said 75 volunteers are helping the family navigate their first few months in America ― doing things such as helping the family register children for school, go to doctors' appointments and practice English.
The experience has been a "blessing" to his parish, Josoma said, and has helped his congregants feel like they can make at least a small difference in the global refugee crisis. Many volunteers are now eager to welcome a second refugee family to the neighborhood, he said.
"We don't pretend to have the answers, but we believe working together in small communities, we can begin to address the problem," Josoma said.