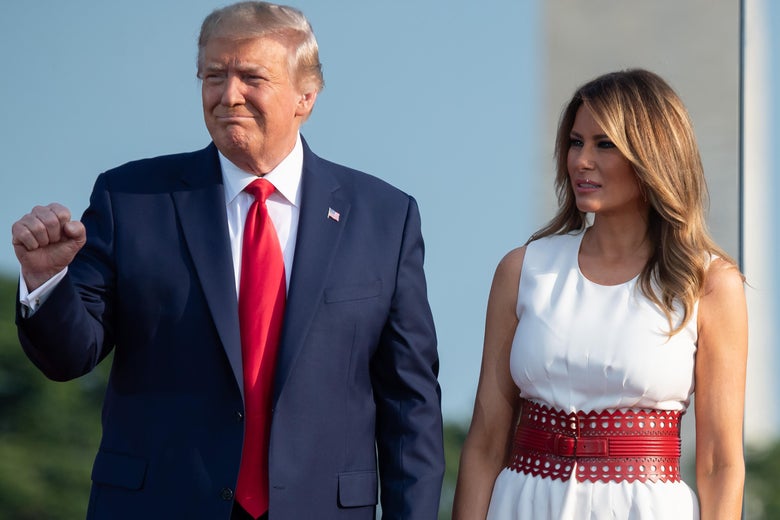 Former Vice President Joe Biden offered a message of hope and unity on Fourth of July that was in sharp contrast to the divisive tone of President Donald Trump's address at Mount Rushmore on Friday. With a message that centered around racial justice, Biden said that the United States "never lived up" to its founding principle that "all men are created equal." In a video that includes images of protests and references to the Black Lives Matter movement, Biden offered a hopeful tone, saying that "We have a chance to rip the roots of systemic racism out of this country" and "live up to the words that founded this nation." Trump on the other hand delivered a " dark speech" that amounted to "a full-on culture war against a straw-man version of the left that he portrayed as inciting mayhem and moving the country toward totalitarianism," as the New York Times puts it.
Our nation was founded on a simple idea: We're all created equal. We've never lived up to it – but we've never stopped trying. This Independence Day, let's not just celebrate those words, let's commit to finally fulfill them. Happy #FourthOfJuly! pic.twitter.com/1WrATlx8Xl

– Joe Biden (@JoeBiden) July 4, 2020
The presumptive Democratic presidential nominee didn't mention Trump in his video message but his words marked a clear distinction from Trump who said that anyone who dared question the country's "heroes" are part of a "radical ideology." Trump insisted that the recent protests that have engulfed the country had cemented divisions. "Our nation is witnessing a merciless campaign to wipe out our history, defame our heroes, erase our values and indoctrinate our children," Trump said. "Angry mobs are trying to tear down statues of our founders, deface our most sacred memorials and unleash a wave of violent crime in our cities."
Trump offers some remarkably overheated rhetoric: "There is a new far-left fascism that demands absolute allegiance … this left-wing cultural revolution is designed to overthrow the American revolution" pic.twitter.com/pZC66T6Mzq

– Aaron Rupar (@atrupar) July 4, 2020
As Trump insisted that a "left-wing cultural revolution" was trying to rewrite U.S. history, Biden emphasized that it is important to remember that the country's past isn't exactly perfect. "American history is no fairy tale," Biden said. "It's been a constant push and pull between two parts of our character, the idea that all men and women – all people – are created equal and the racism that has torn us apart."
On Saturday, Trump once again turned what is typically a non-partisan Independence Day celebration into a campaign event by criticizing the usual suspects, including protesters and the media. Following the theme from Friday, Trump accused protesters of "lying" about the country's history at speech in the White House while he characterized himself as the defender of the country's "rich heritage" and the "American way of life, which began in 1492 when Columbus discovered America." As he fanned the flames of the culture wars, Trump also blasted China, saying its "deception" allowed the coronavirus to spread more quickly. The speech was a marked change from Trump's July 4th address last year that focused on patriotism and mostly avoided partisan issues. And unlike last year, the crowds at the National Mall were pretty thin on Saturday.
t
It's Time for Liberals to Take Back Patriotism

t

Coronavirus Cases Soar as Fauci Warns New Mutation May Cause Virus to Spread More Easily

t

Kimberly Guilfoyle, Trump Jr.'s Girlfriend and Top Campaign Official, Tests Positive for COVID-19

t

These Are the Statues Trump Wants to Include in the "National Garden of American Heroes"
In an op-ed piece, Biden went further on this idea, noting that "Independence Day is a celebration of our persistent march toward greater justice." He also directly slammed Trump in the op-ed, saying he is the main person responsible for throwing the nation off course in its quest for a more perfect union. "Every day, he finds new ways to tarnish and dismantle our democracy-from baseless attacks on our voting rights to the use of military force against Americans protesting peacefully for racial justice," Biden wrote. "He has systematically gone after the guardrails of our democracy: the free press, the courts, and our fundamental belief that no one in America-not even the president-is above the law."
Biden's campaign also harshly criticized Trump's Friday speech. "Our whole country is suffering through the excruciating costs of having a negligent, divisive president who doesn't give a damn about anything but his own gain," campaign spokesman Andrew Bates said in a statement. It didn't take long for the Trump campaign to fire back while doubling down on the divisive message. "The idea that Biden, with his 40 plus years of DC failure, has any notion or ability to strengthen our union is absurd," said campaign communications director Tim Murtaugh. "Because of political pressure from the left, Biden is forced to agree that America was fundamentally flawed from the beginning and remains so today. By contrast, President Trump is proud of our history and believes strongly in our present greatness."
*This post has been updated with new information since it was first published.