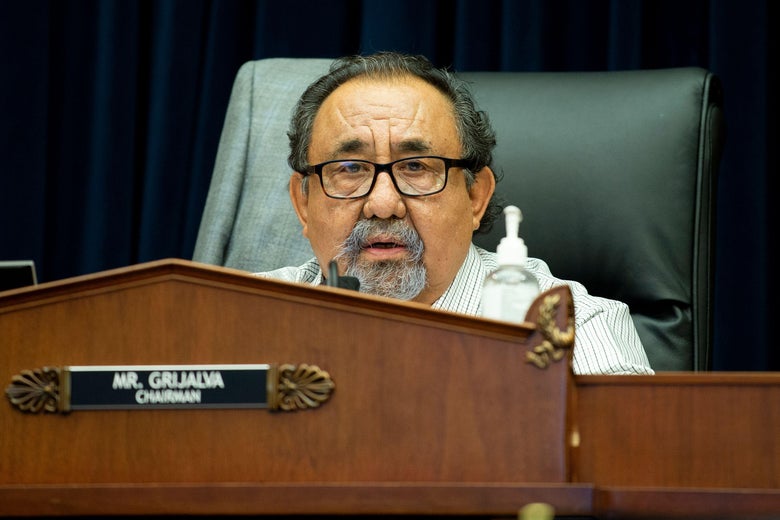 Arizona Congressman Raul Grijalva became the latest lawmaker to test positive for the coronavirus, he confirmed Saturday. Grijalva, a Democrat whose district includes parts of the Phoenix and Tucson areas, had been in self-isolation since Texas Republican Rep. Louie Gohmert tested positive for COVID-19 on Wednesday. The two had been at a hearing together on Tuesday. "I currently have no symptoms, feel fine, and hope to make a quick and speedy recovery," Grijalva said.
I have tested positive for COVID-19.

As a result, I will be self-isolating in quarantine. I currently have no symptoms, feel fine, and hope to make a quick & speedy recovery.

COVID-19 is not a joke & we should all take this seriously.

My full statement: pic.twitter.com/nnBskdSyTF

– Raul M. Grijalva (@RepRaulGrijalva) August 1, 2020
In a statement Saturday, Grijalva harshly criticized colleagues who refuse to take precautions against the coronavirus. "While I cannot blame anyone directly for this, this week has shown that there are some Members of Congress who fail to take this crisis seriously," he said. "Numerous Republican members routinely strut around the Capitol without a mask to selfishly make a political statement at the expense of their colleagues, staff, and their families." Grijalva, 73, went on to praise House Speaker Nancy Pelosi for requiring lawmakers and their staff to wear masks. "Stopping the spread of a deadly virus should not be a partisan issue," he said.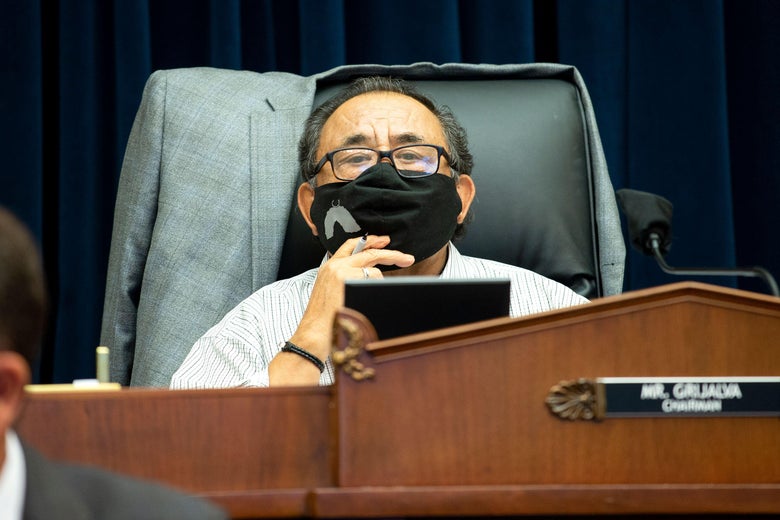 Grijalva will continue isolating in Washington, D.C. "He's feeling fine and is just getting some rest," his communications director, Geoff Nolan, said on Saturday. Nolan said several staff members in Grijalva's office will be tested as well but emphasized that the lawmaker always wears a mask when he is at the Capitol.
Grijalva is the 10th House lawmaker who is known or presumed to have contracted COVID-19, according to the Wall Street Journal. On the Senate side,one Democrat-Sen. Tim Kaine-and one Republican-Sen. Rand Paul-have tested positive for the virus.
The 10th Member of Congress to test positive, this time a Democrat. Coronavirus doesn't care about politics.

Madam Speaker, where is your plan for testing? https://t.co/gfhcRrZ2A0

– Kevin McCarthy (@GOPLeader) August 1, 2020
t
Barack Obama's Eulogy for John Lewis Was Perfect

t

So Is It Going to Be Kamala, or What?

t

This Week, Pramila Jayapal Became Our Eviscerator in Chief

t

Trump Is Now Openly Defying the Supreme Court
Following Grijalva's diagnosis, Minority Leader Kevin McCarrthy, a Republican from California, asked Pelosi on Twitter: "Where is your plan for testing?" Gohmert's diagnosis this past week once again brought a debate around testing in Congress to the forefront. In early May, Pelosi and Senate Majority Leader Mitch McConnell declined an offer from the White House for rapid-result coronavirus tests, arguing medical facilities needed them more urgently. But now McCarthy and several senior Senate Republicans have been calling for increased testing on Capitol Hill. "There's more than 50 million tests that have already happened in America, but the one place it's not happening is in Congress. I can't understand why the speaker continues to refuse," Mr. McCarthy told reporters Thursday. "Is it just because the offer has come from the administration?" Pelosi has said that any testing program on the Capitol needs to consider the thousands of people who work there and not just lawmakers and their aides. "It's not up to Sen. McConnell and me. As far as I'm concerned, it's up to the Capitol physician," Pelosi told reporters on Friday. "There are about 20,000 people who make the Capitol run. And the Capitol physician has not said yet that he thinks we should be tested. But it's not just us, it's others as well."