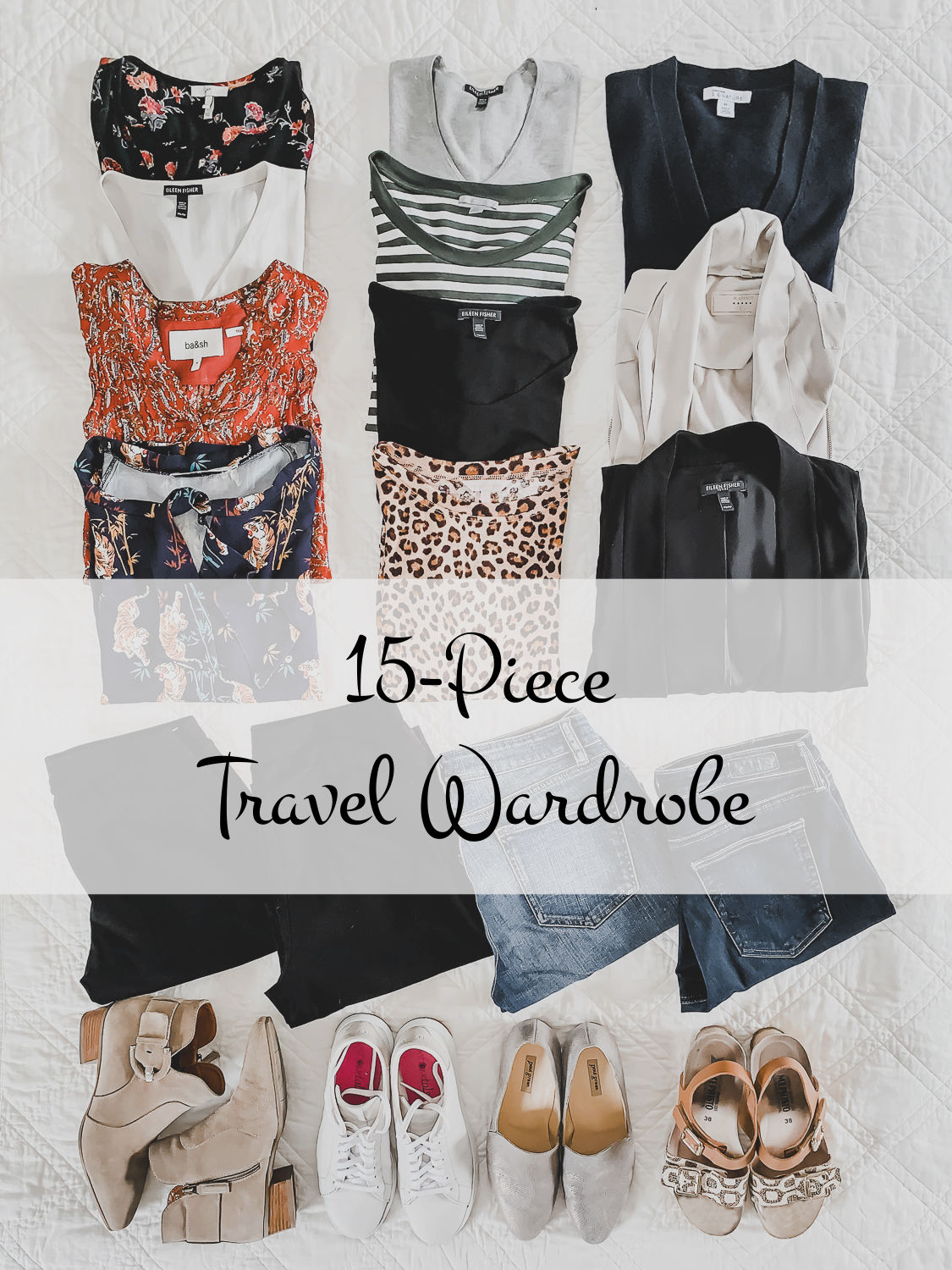 It's Time To Pack…
It's one thing to build a hypothetical summer travel wardrobe, and quite another to create one using my own clothing. At this point, I could pull together a capsule of solid, neutral pieces in my sleep. But my goal with this wardrobe was to add some fun to the mix, without sacrificing functionality.
I'm including a few more pieces this time, not only because I wanted more variety, but because we have a few nice dinners on the itinerary. Still "smart casual," but dialed up a notch.
Some may think this is a lot of items, and for some people or types of travel it might be. Deciding on a travel wardrobe is always a balancing act between variety and simplicity, between style and utility. Each person has to find their own balance point and comfort level. And that might change from trip to trip.
Just a note: I don't count shoes, outerwear, accessories or "underpinnings" as part of my 15 pieces.
This wardrobe does fit into a carry-on sized, bag, though I may take a medium-sized bag and check it so we have room to bring home wine and other goodies.
Please note: my content is being re-published by other websites without my permission. If you're not reading this post at https://unefemme.net, please click link to read where originally posted.
My Summer Travel Wardrobe
The latest forecasts are calling for mild weather for most of our trip, with more than a smattering of rain. I'd originally selected pieces based mostly on warmer conditions, so made a couple of last-minute swaps to accommodate. (But I'm also prepared in case of heat waves or cold snaps.)
Though I've included more color and pattern, this wardrobe is still primarily neutrals: navy, black and beige. I'll also leave myself room for a "wild card" piece, based on weather forecasts and my mood.
So let's break it down: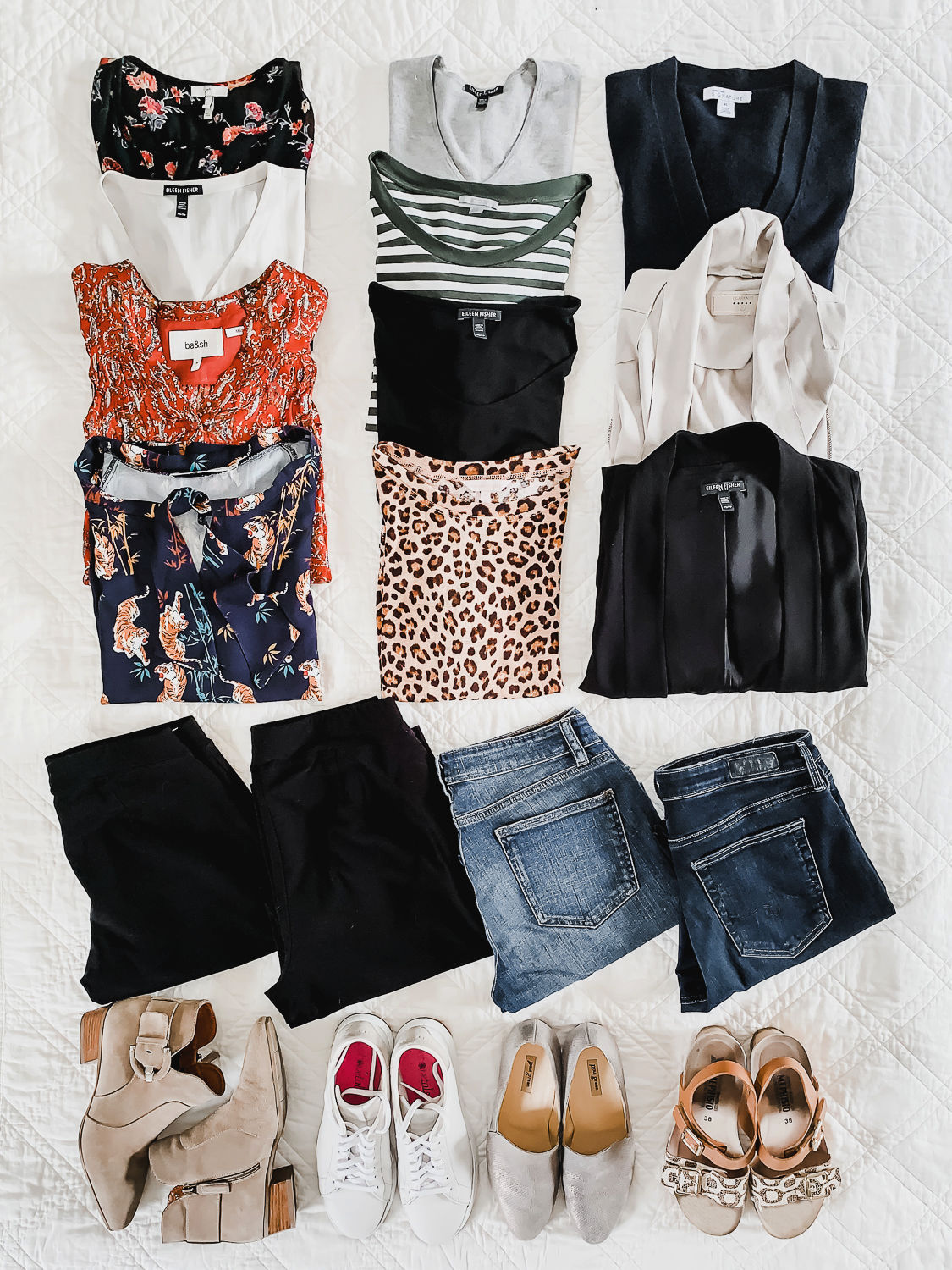 Shoes
When planning my selections for any travel wardrobe, I've learned to start with the shoes, and work up from there.
t
Weather-resistant ankle boots (similar). I went back and forth on whether to include these, but with rain in the current forecasts, I may be glad to have them. And they're a good slip-on option for air travel days.

t

White sneakers. They're almost de rigeur at this point. And I know this style is comfortable for me, as I wore the metallic ones all over Lyon and Paris last year. I've added some insoles for a little extra padding, and to make them comfortable to wear with or without hosiery.

t

Metallic loafers (similar). A "dress up" shoe option that I can walk in for hours.

t

Sandals (similar). These were winners last year, so why mess with success?

Bottoms
For travel wardrobes, I adhere to the concept of "tabletop dressing:" sticking to simple, neutral pieces on the bottom and adding variety, color, pattern above the waist.
t
Eileen Fisher stretch crepe slim pants. In just about every travel wardrobe recap, these are at the top of my MVP list. They are comfortable in a wide range of temperatures, dress up or down, and are easy to style. They can be hand washed and will usually dry overnight. (Or you can wash/dry in a machine if you have access.)

t

Eileen Fisher lantern pants (similar in Misses / Petite / Plus ). When packing for last year's trip, I threw these in at the last minute, and they also made my MVP list.

t

Dark wash, slim leg jeans. Easy to style, a versatile "polished casual" option.

t

Boyfriend jeans. A more relaxed, casual denim option. I can wear them full length or roll up the cuff on warmer days.

I seriously considered bringing white jeans, but after a try-on session with my other pieces, decided to leave them at home.
Tops
In reviewing my France travel wardrobe from last year, my "MVP" list included lightweight printed blouses. So I've included 3 of those this time. All will layer underneath the jackets/cardigan.
t
Silk floral top (similar). Yes, it's one I wear often. While I've been searching for something in a similar cut and fabric in a lighter color, I haven't yet found it, so this will have to do.

t

Tiger print top. It's a very light viscose fabric which is breathable and is wrinkle-resistant.

t

Terra cotta metallic print top. Very light and gauzy. A couple of more budget-friendly options HERE and HERE (Plus).
I also included three tees and one shell. All can layer underneath jackets or be worn on their own.
One pullover…this one's very lightweight.
Two light jackets and a cardigan.
And most days, I'll be wearing one of these silk tanks as a base layer.

Outerwear & Bags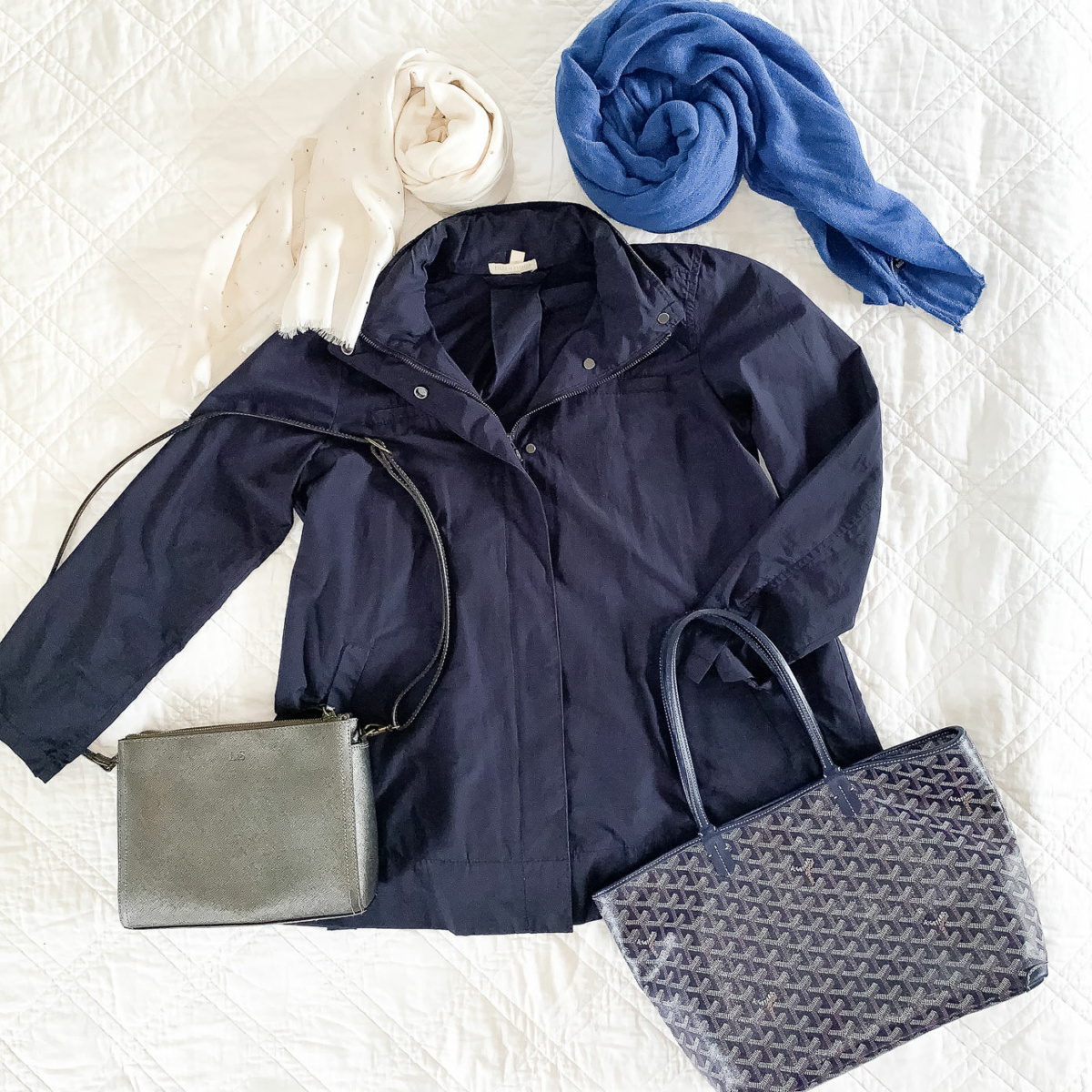 Because I'm bringing a couple of jackets, I think the only outerwear I'll need will be a light rain shell.
I'm bringing two bags.
t
The larger zipped coated canvas tote (similar) will be used for travel days, and for countryside / winery tours when we're mostly traveling by car.

t

The smaller crossbody is my favorite bag for city sightseeing, and looks polished enough for evenings.
During our visit to France in June of last year, I wore almost none of my scarves. As I'm including more color and pattern with my tops, I'm only bringing two scarves, both solids.
t
A warmer wool wrap for the plane. This one (gifted) from the Chic At Any Age shop (will reopen July 1).

t

A lighter weight silk-cashmere wrap with embedded Swarovski crystals. This might come in handy to throw over my shoulders on cool evenings.
I'm making my final jewelry selections this morning, will cover in subsequent posts. Look for more travel posts here, and be sure to follow me on Instagram.
More Options For Your Summer Travel Wardrobe At My SHOP Page.
I think that covers it… 😉 🧳 ✈️ Away we go!
Affiliate links in posts may generate commissions for unefemme.net. See my complete disclosure policy here.