Students don't seem to be getting much out of higher education.
The labor market doesn't pay you for the useless subjects you master; it pays you for the preexisting traits you signal by mastering them. This is not a fringe idea. Michael Spence, Kenneth Arrow, and Joseph Stiglitz-all Nobel laureates in economics-made seminal contributions to the theory of educational signaling. Every college student who does the least work required to get good grades silently endorses the theory. But signaling plays almost no role in public discourse or policy making. As a society, we continue to push ever larger numbers of students into ever higher levels of education. The main effect is not better jobs or greater skill levels, but a credentialist arms race.

Lest I be misinterpreted, I emphatically affirm that education confers some marketable skills, namely literacy and numeracy. Nonetheless, I believe that signaling accounts for at least half of college's financial reward, and probably more.

Most of the salary payoff for college comes from crossing the graduation finish line. Suppose you drop out after a year. You'll receive a salary bump compared with someone who's attended no college, but it won't be anywhere near 25 percent of the salary premium you'd get for a four-year degree. Similarly, the premium for sophomore year is nowhere near 50 percent of the return on a bachelor's degree, and the premium for junior year is nowhere near 75 percent of that return. Indeed, in the average study, senior year of college brings more than twice the pay increase of freshman, sophomore, and junior years combined. Unless colleges delay job training until the very end, signaling is practically the only explanation. This in turn implies a mountain of wasted resources-time and money that would be better spent preparing students for the jobs they're likely to do.

The conventional view-that education pays because students learn-assumes that the typical student acquires, and retains, a lot of knowledge. She doesn't. Teachers often lament summer learning loss: Students know less at the end of summer than they did at the beginning. But summer learning loss is only a special case of the problem of fade-out: Human beings have trouble retaining knowledge they rarely use. Of course, some college graduates use what they've learned and thus hold on to it-engineers and other quantitative types, for example, retain a lot of math. But when we measure what the average college graduate recalls years later, the results are discouraging, to say the least.

In 2003, the United States Department of Education gave about 18,000 Americans the National Assessment of Adult Literacy. The ignorance it revealed is mind-numbing. Fewer than a third of college graduates received a composite score of "proficient"-and about a fifth were at the "basic" or "below basic" level. You could blame the difficulty of the questions-until you read them. Plenty of college graduates couldn't make sense of a table explaining how an employee's annual health-insurance costs varied with income and family size, or summarize the work-experience requirements in a job ad, or even use a newspaper schedule to find when a television program ended. Tests of college graduates' knowledge of history, civics, and science have had similarly dismal results.

Of course, college students aren't supposed to just download facts; they're supposed to learn how to think in real life. How do they fare on this count? The most focused study of education's effect on applied reasoning, conducted by Harvard's David Perkins in the mid-1980s, assessed students' oral responses to questions designed to measure informal reasoning, such as "Would a proposed law in Massachusetts requiring a five-cent deposit on bottles and cans significantly reduce litter?" The benefit of college seemed to be zero: Fourth-year students did no better than first-year students.
I'm cynical about students. The vast majority are philistines. I'm cynical about teachers. The vast majority are uninspiring. I'm cynical about "deciders"-the school officials who control what students study. The vast majority think they've done their job as long as students comply.

Those who search their memory will find noble exceptions to these sad rules. I have known plenty of eager students and passionate educators, and a few wise deciders. Still, my 40 years in the education industry leave no doubt that they are hopelessly outnumbered. Meritorious education survives but does not thrive.

Indeed, today's college students are less willing than those of previous generations to do the bare minimum of showing up for class and temporarily learning whatever's on the test. Fifty years ago, college was a full-time job. The typical student spent 40 hours a week in class or studying. Effort has since collapsed across the board. "Full time" college students now average 27 hours of academic work a week-including just 14 hours spent studying.

What are students doing with their extra free time? Having fun. As Richard Arum and Josipa Roksa frostily remark in their 2011 book, Academically Adrift,
If we presume that students are sleeping eight hours a night, which is a generous assumption given their tardiness and at times disheveled appearance in early morning classes, that leaves 85 hours a week for other activities.
Arum and Roksa cite a study finding that students at one typical college spent 13 hours a week studying, 12 hours "socializing with friends," 11 hours "using computers for fun," eight hours working for pay, six hours watching TV, six hours exercising, five hours on "hobbies," and three hours on "other forms of entertainment." Grade inflation completes the idyllic package by shielding students from negative feedback. The average GPA is now 3.2.

What does this mean for the individual student? Would I advise an academically well-prepared 18-year-old to skip college because she won't learn much of value? Absolutely not. Studying irrelevancies for the next four years will impress future employers and raise her income potential. If she tried to leap straight into her first white-collar job, insisting, "I have the right stuff to graduate, I just choose not to," employers wouldn't believe her. To unilaterally curtail your education is to relegate yourself to a lower-quality pool of workers. For the individual, college pays.

This does not mean, however, that higher education paves the way to general prosperity or social justice. When we look at countries around the world, a year of education appears to raise an individual's income by 8 to 11 percent. By contrast, increasing education across a country's population by an average of one year per person raises the national income by only 1 to 3 percent. In other words, education enriches individuals much more than it enriches nations.

How is this possible? Credential inflation: As the average level of education rises, you need more education to convince employers you're worthy of any specific job. One research team found that from the early 1970s through the mid‑1990s, the average education level within 500 occupational categories rose by 1.2 years. But most of the jobs didn't change much over that span-there's no reason, except credential inflation, why people should have needed more education to do them in 1995 than in 1975. What's more, all American workers' education rose by 1.5 years in that same span-which is to say that a great majority of the extra education workers received was deployed not to get better jobs, but to get jobs that had recently been held by people with less education.

As credentials proliferate, so do failed efforts to acquire them. Students can and do pay tuition, kill a year, and flunk their finals. Any respectable verdict on the value of education must account for these academic bankruptcies. Failure rates are high, particularly for students with low high-school grades and test scores; all told, about 60 percent of full-time college students fail to finish in four years. Simply put, the push for broader college education has steered too many students who aren't cut out for academic success onto the college track.

The college-for-all mentality has fostered neglect of a realistic substitute: vocational education. It takes many guises-classroom training, apprenticeships and other types of on-the-job training, and straight-up work experience-but they have much in common. All vocational education teaches specific job skills, and all vocational education revolves around learning by doing, not learning by listening. Research, though a bit sparse, suggests that vocational education raises pay, reduces unemployment, and increases the rate of high-school completion.
Related Stories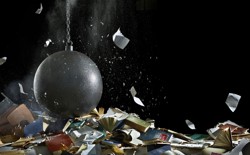 Defenders of traditional education often appeal to the obscurity of the future. What's the point of prepping students for the economy of 2018, when they'll be employed in the economy of 2025 or 2050? But ignorance of the future is no reason to prepare students for occupations they almost surely won't have-and if we know anything about the future of work, we know that the demand for authors, historians, political scientists, physicists, and mathematicians will stay low. It's tempting to say that students on the college track can always turn to vocational education as a Plan B, but this ignores the disturbing possibility that after they crash, they'll be too embittered to go back and learn a trade. The vast American underclass shows that this disturbing possibility is already our reality.

This essay is adapted from Bryan Caplan's book The Case Against Education. It appears in the January/February 2018 print edition with the headline "What's College Good For?"

Education is so integral to modern life that we take it for granted. Young people have to leap through interminable academic hoops to secure their place in the adult world. My thesis, in a single sentence: Civilized societies revolve around education now, but there is a better-indeed, more civilized-way. If everyone had a college degree, the result would be not great jobs for all, but runaway credential inflation. Trying to spread success with education spreads education but not success.