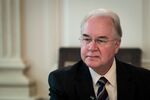 Annoyed by Congress's failure to repeal the Affordable Care Act, the Trump administration is redoubling its efforts to undermine the law. The latest act of sabotage: Top federal health officials have been told not to help states sign up Americans for insurance policies as part of this fall's open enrollment period.
Reducing the number of people who buy policies will raise premiums for those who do. And the administration has already done plenty on that score — by signaling it may weaken enforcement of the requirement to have insurance, by repeatedly (and falsely) claiming that the law is collapsing, and, most of all, by routinely threatening to stop reimbursing insurers for lowering out-of-pocket costs for low-income customers.
For good measure, the administration is cutting Affordable Care Act advertising by 90 percent and closing the federal insurance exchange — which serves 39 states — on Sunday mornings. For maintenance, you understand.
This behavior is spiteful, irresponsible and a violation of the Constitution's insistence that the president "take care that the laws be faithfully executed." And it will inflict needless added expense on American taxpayers.
Ending the cost-reduction payments alone would mean spending an extra $12.3 billion on tax credits next year, according to the Kaiser Family Foundation. Subtract the $10 billion saved on the payments, and the net cost to taxpayers is $2.3 billion. Failure to sign up customers or enforce the individual mandate will mean that those who do buy Obamacare policies will be relatively unhealthy. Shifting the so-called risk pool in this way raises costs for insurers — and premiums for their customers.
The administration and congressional Republicans should be working with Democrats to fix Obamacare's flaws and strengthen the U.S. health-care system. This comprehensive effort to wreck, as opposed to repair, the Affordable Care Act is a cynical betrayal of the public's trust.
–Editors: Mary Duenwald, Clive Crook.
To contact the senior editor responsible for Bloomberg View's editorials: David Shipley at davidshipley@bloomberg.net .