Last night at the White House, Donald Trump, Nancy Pelosi, and Chuck Schumer struck another deal. Or maybe they didn't, depending on who's speaking. The messaging tug-of-war between the two sides continues now, and it's interesting for any number of reasons-obviously, the fate of DACA, but also the future of Trump's nascent alliance with Democrats, and the future of Trump's relationship with Republican leaders. ( My colleague Russell Berman covers the details in depth.)
But regardless of who's telling the truth, and whether any such deal ever makes it into law, the greater significance is that Trump has fully embraced amnesty. While he has expressed desire to help the "Dreamers," unauthorized immigrants brought to the United States as children, in the past, the apparent agreement with the congressional Democratic leaders, and Trump's comments on it Thursday morning, cement the fact that Trump, the most openly anti-immigrant presidential nominee in generations, turns out to have all the same hesitations about deporting bright young would-be Americans as every other elite politician.
Related Story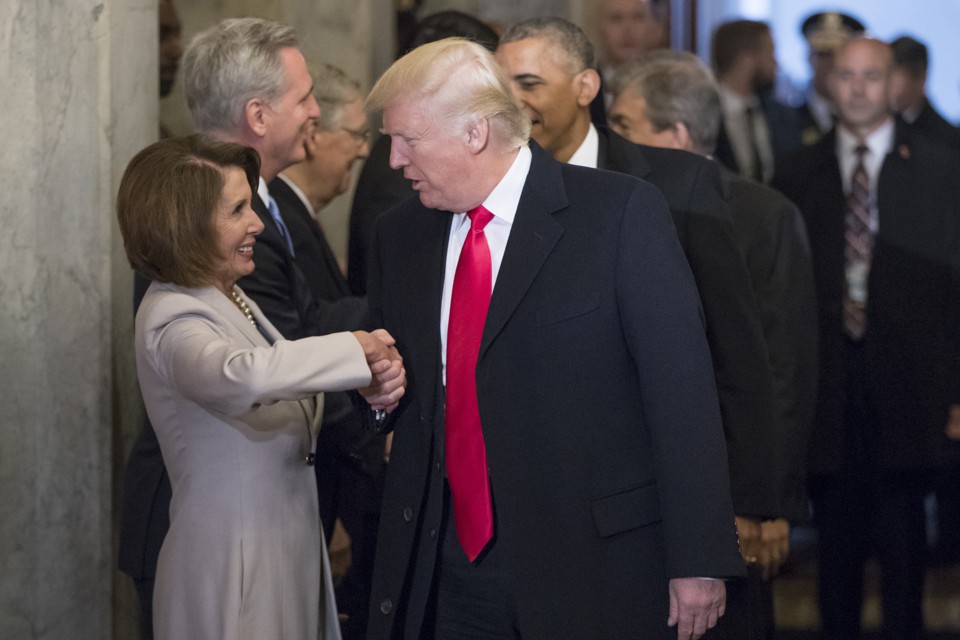 DACA Pits Trump Against His Own Administration
Last week, Trump struck a deal with Pelosi, the House Democratic leader, and Schumer, her Senate counterpart, on disaster relief, the debt ceiling, and government funding, over Republican objections. Democrats hoped, and Republicans feared, that would be a prelude to a deal on DACA favorable to Democrats. And after a dinner meeting Wednesday, it seemed those expectations had been realized. In a statement, Schumer and Pelosi said, "We agreed to enshrine the protections of DACA into law very quickly, and to work out a package of border security, excluding the wall, that's acceptable to both sides."
Thursday morning, Trump disputed that account on Twitter-sort of. In a series of tweets, he claimed there had been no deal, but what he described confirmed the outlines of an understanding as Pelosi and Schumer stated them:
No deal was made last night on DACA. Massive border security would have to be agreed to in exchange for consent. Would be subject to vote.

– Donald J. Trump (@realDonaldTrump)September 14, 2017
The WALL, which is already under construction in the form of new renovation of old and existing fences and walls, will continue to be built.

– Donald J. Trump (@realDonaldTrump)September 14, 2017
Other than stating there was no deal, Trump seemed to be on the same page as the Democrats: The tradeoff would be for border security; obviously there would have to be a vote, since that's how Congress works; and the wall was separate. Later, speaking to reporters on Air Force One, he confirmed all of this.