Sean McDermott is now the head coach of the Buffalo Bills.
The former Carolina Panthers defensive coordinator has agreed to terms with the Bills and will now compete in the AFC East, Jason La Canfora of CBS Sports reports.
McDermott, 42, has garnered interest as a potential head coach over the past two offseasons. After also interviewing with the San Diego Chargers and San Francisco 49ers this offseason, the Bills are finally giving him the opportunity to lead a team.
Before spending the past six seasons as Carolina's D-coordinator, McDermott was a long-time Philadelphia Eagles assistant. He broke into the NFL as a scouting coordinator for the Eagles in 1999, and worked his way up the coaching ladder for the next decade.
McDermott will replace Rex Ryan, who accumulated a 15-16 record in just under two full seasons with the Bills. Ryan was fired after Week 16, and offensive coordinator Anthony Lynn took over as the interim head coach for the final week of the season. Lynn was considered the front-runner to land the full-time job early in Buffalo's coaching search.
Like Ryan and unlike Lynn, McDermott is a defensive-minded coach. His Panthers teams have finished in the top 10 for total defense in total defense four of the past five years.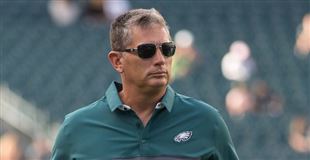 Top 10 candidates to replace Rex Ryan as Bills head coachStart SlideShowFollow Kevin Boilard on Twitter: @247KevinBoilard