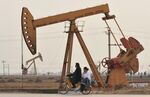 People's Bank of China Governor Zhou Xiaochuan made comments this week that suggest some imminent reform announcements are on the agenda. There are two potential policies to look for in the near term: the loosening of foreign investment restrictions and the launch of domestic oil futures.
A new oil futures contract in the Shanghai free trade zone might sound trivial, but it could be the first step in removing capital controls on remittance of foreign investors' profits. The contract would likely be denominated in yuan, attracting foreign investors in a program similar to the stock and bond connects. What could be even more interesting is if the PBOC waives capital controls for foreign participants, and the State Administration of Foreign Exchange allows foreign investors to wire capital gains to offshore accounts.
All that could be a very big step in increasing the international use of the yuan, and making progress on opening up the capital account. Plus, the start of oil futures could give China more control over the price of oil that it imports, an effort the PBOC recently identified as a priority. West Texas Intermediate and Brent crudes are light sweet oil, but I suspect China's new futures will be based on a denser blend from the Russian Urals and Saudi light crude, and priced accordingly.
Pan Hongsheng, the deputy secretary general of the PBOC's monetary policy committee, was quoted by the official China Securities Journal last month as saying: "China is keen to raise the profile of its currency in the pricing of commodities. China is studying the market rules and mechanisms of pricing commodities in yuan [to] satisfy demand from domestic and overseas investors."
Another likely near-term reform measure could be a further loosening of foreign investment restrictions in the financial industry. Currently, foreign firms cannot take majority stakes in joint ventures in banks, securities firms and insurers. They also cannot own more than 25 percent of a mainland bank. Premier Li Keqiang presided over a July State Council executive meeting on encouraging foreign investment and creating a business environment better suited to a higher level of openness to foreign capital. The financial industry is an obvious area that warrants further progress.
There are two very important upcoming political events when it would be ideal to announce progress on reforms: the 19th Communist Party Congress that begins Oct. 18, and U.S. President Donald Trump's proposed visit to Beijing in November. Reforms are one of President Xi Jinping's key priorities. Currency and financial-sector liberalizations can serve China by attracting foreign investors to help share the cost of debt restructurings while elevating the importance of China on the global geopolitical stage. Such moves may also be welcomed by Trump.
Time is of the essence. China is at the point where it can no longer rely on monetary stimulus and government spending to support longer-term growth. It is vital that the government accelerate the pace of structural reform.
Bloomberg Prophets Professionals offering actionable insights on markets, the economy and monetary policy. Contributors may have a stake in the areas they write about.
To contact the author of this story:
David Millhouse at dmillhouse7@bloomberg.net
To contact the editor responsible for this story:
Robert Burgess at bburgess@bloomberg.net