There's an anecdote Hillary Clinton tells about the frenzied run-up to the 2016 U.S. presidential election. She was in Scranton, Pennsylvania, campaigning with Joe Biden in his swing-state-set hometown. She noticed a woman staring at her-with more intensity than even Hillary Clinton is used to being stared at by members of the public. The woman finally approached her. She'd been gazing at Clinton, she explained, out of confusion. "I'd read you'd gained 130 pounds!"
It was a Kinsley gaffe whose truth was revealed not by the politician, but about her: Many people will believe pretty much anything about the former first lady/senator/secretary of state/presidential candidate. In her, the demands of American celebrity and the dynamics of American politics have mingled in an extremely targeted form of magical thinking. Whatever Hillary Clinton might do, a hefty chunk of people will assume its nefariousness. Whatever she might say, a significant portion of the populace will simply assume she is lying: Lady Macbeth, in the age of alternative facts. Is her marriage a sham? Is she sick with a chronic disease? Did she kill Vince Foster? Is she, just under those perfectly pressed pantsuits, hiding the scales of a reptile?
Related Stories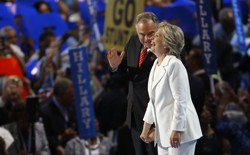 "I'm a Rorschach test," Clinton said of herself, during the 2008 presidential primaries, and she was correct. The trouble, for all involved, is that she is also a human, with the moral and emotional freight the designation implies. Clinton may be a vessel for this moment's internet-fueled iteration of the paranoid style; she feels them, though, those accusations flung in her direction. Once, when Clinton was the first lady, a staffer read aloud from a magazine story that repeated one of the moment's trendy rumors: that Hillary had had sex with a colleague. Hearing it, the Post's Marc Fisher reported -or, rather, mishearing it-"Clinton's eyes filled with tears." She asked the staffer, "It really says I had sex with a collie?"
Every politician's story will fuse the mundane and the mythic. Each will involve a strategic blend of fact and fiction. Each will rely on performances that a dubious and tenacious public will attempt to decode. Clinton's story, however, has involved such things in decidedly disproportionate amounts. This is one of the themes of What Happened, the new book Clinton released on Tuesday.
Set in the negative space of a presidency that wasn't, the book is a political memoir in the tritest traditions of the genre. Its chapters include titles like "Perseverance," "Grit and Gratitude," and "Making History." It offers inspirational quotes from Rilke, various Roosevelts, Chimamanda Ngozi Adichie, Hamilton. But What Happened -its blunt title belies its tone-is also casually conversational. It is personal. It is a book fit for a time in which celebrity demands intimacy, and in which even one of politics' most common works of poetry-the campaign memoir-will revel in the idle revelations of prose. It marks a transition for Clinton; it also suggests much broader transformations at play in American politics and American life. "In the past," Clinton writes, "for reasons I try to explain, I've often felt I had to be careful in public, like I was up on a wire without a net. Now I'm letting my guard down."
* * *
"There are times all I want to do is scream into a pillow."
"I knew the proper and respectful thing to do was to keep quiet and take it all with grace, but inside I was fuming."
"I answered a ton of emails; I returned phone calls. It hurt. There's a reason people isolate themselves when they're suffering."
Suffering is not a word one would likely expect to read in a campaign memoir, particularly one written by one of America's foremost practitioners of classic Clintonian pragmatism. There it is, though, along with "pain" and "anger" and "with my heart still aching," in What Happened. There is the country's almost-president, talking not just of her dreams for the American future, but also of the anger she bears toward it. There she is, confiding to her readers about her fears. And her frustrations. And her love of Pepperidge Farm goldfish crackers (a generous serving of which, she notes, has "only 150 calories-not bad!").