A fascinating interview with Dennis Rodman on GMB this morning has more than a few people scrambling to grasp what could be the world's best hope of avoiding nuclear armageddon.
So it appears the best way of avoiding nuclear war lays in the hands of Dennis Rodman!!! We're living in the worst script ever written!

– Neil Fitzmaurice (@Fitzyfella) September 6, 2017
Dennis Rodman genuinely stands a better chance of preventing nuclear war than the President of the United States.

– Si Lloyd (@SmnLlyd5) September 6, 2017
That was one of the most surreal interviews I've ever seen. Dennis Rodman explaining his access to Kim Jong Un @piersmorgan @susannareid100

– Ewan McQueen (@ewanmcqueen_91) September 6, 2017
The former NBA superstar was grilled by Piers Morgan and Susanna Reid over his long-standing and controversial friendship Kim Jong-Un.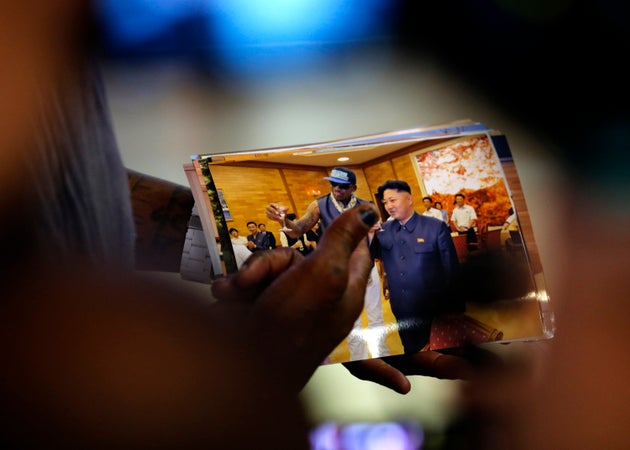 Rodman first visited North Korea in 2013 and was the first known American to meet with the country's dictatorial leader, who he calls a " friend for life ".
It's true, I'm in North Korea. Looking forward to sitting down with Kim Jung Un. I love the people of North Korea. #WORMinNorthKorea

– Dennis Rodman (@dennisrodman) February 26, 2013
As a result he holds the dubious honour of probably being the only person in the world to be friends with both Donald Trump (he appeared on Celebrity Apprentice) and Kim Jong-Un.
I'm calling on the Supreme Leader of North Korea or as I call him "Kim", to do me a solid and cut Kenneth Bae loose.

– Dennis Rodman (@dennisrodman) May 7, 2013
With tensions on the Korean Peninsula " far more unpredictable and dangerous than at any time since the ending of the Korean civil war ", it seems now is as good a time as any to explore any opportunity for peace no matter how surreal…
The interview ended with Morgan asking to join Rodman on his next trip.
Looks like I'm going to North Korea. Thanks @dennisrodman, see you on the plane! @GMB

– Piers Morgan (@piersmorgan) September 6, 2017
Here's the latest on the ongoing situation from the Associated Press.
NORTH KOREA
North Korea has reportedly promised more "gift packages" are on their way.
#DPRK says more "gift packages" on the way, as long as the "US relies on reckless provocations and futile attempts" to pressure #NorthKorea

– Toni Waterman (@ToniWatermanCNA) September 5, 2017
Aside from that the country has stayed largely silent since Sunday's nuclear test most likely to gauge the reaction from South Korea and others.
THE UNITED STATES
The Trump administration's options are going from bad to worse as Kim Jong Un's military marches ever closer to being able to strike the US mainland with nuclear weapons. Just as President Donald Trump seeks to show global resolve after the North's most powerful nuclear test, his leverage is limited even further by new tensions he's stoked with South Korea, plus continued opposition from China and Russia.
With South Korea, the country most directly threatened, Trump has taken the unusual step of highlighting disagreements between the US and its treaty ally, including by floating the possibility he could pull out of a trade deal with South Korea to protest trade imbalances. He also suggested on Twitter the two countries lacked unanimity on North Korea, faulting new South Korean President Moon Jae-in, who has been more conciliatory to the North, for his government's "talk of appeasement."
It's an inopportune time for grievances to be aired, and on Monday the two leaders sought to show they were confronting North Korea together – and with might. The White House said that in a phone call with Moon, Trump gave approval "in principle" to lifting restrictions on South Korean missile payloads and to approving "many billions" in weapons sales to South Korea.
SOUTH KOREA
South Korea says the US military will begin adding more launchers to a contentious high-tech US missile defence system in South Korea on Thursday to better cope with North Korean threats.
Seoul's Defense Ministry said Wednesday that four launchers and construction equipment will be moved to the former golf course where the Terminal High-Altitude Area Defense system has been set up.
A THAAD battery normally consists of six launchers, but only two have been operational so far at the site in rural Seongju.
The placing of additional THAAD launchers will likely trigger an angry response from area residents and activists who have opposed the system.
They have raised worries over rumoured health hazards linked to the system's powerful radar and the possibility that the town will become a target of North Korean attacks.
Russian President Vladimir Putin has called for talks with North Korea, saying sanctions are not a solution.
He said supporting a Russian-Chinese road map would help resolve the nuclear crisis on the Korean Peninsula.
Speaking after the talks with the visiting South Korean president, Putin in televised remarks urged North Korea's neighbours to support the Russian-Chinese roadmap. He said it "offers a genuine way to defuse the tensions and a step-by-step settlement."
Putin made the remarks Wednesday after meeting with South Korean President Moon Jae-in in Vladivostok, Russia.