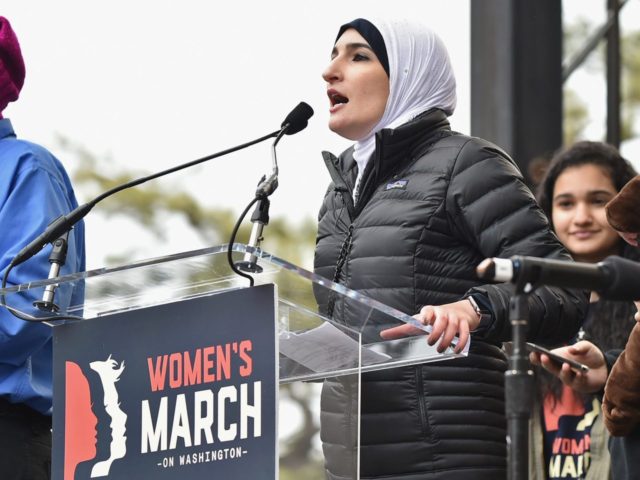 Brooklyn Democrat Dov Hikind demanded Tuesday that Palestinian-American anti-Trump activist Linda Sarsour account for $100,000 that she helped raise for a Jewish cemetery that needs repair, but which says it has not received the money.
Hikind, a New York State Assemblyman, was responding to an article Tuesday at the Algemeiner (original emphasis and link):
A Jewish cemetery in Colorado that has fallen into severe disrepair has yet to receive a check for some $100,000 from a group associated with Palestinian-American BDS [boycott, divestment, sanctions] activist Linda Sarsour, despite being promised the money several months ago, The Algemeiner learned on Tuesday.

Neal Price of the Golden Hill Cemetery in Lakewood, CO said he had left three unreturned voicemails for Tarek El-Messidi, the founder of non-profit Islamic education organization Celebrate Mercy, who led the high-profile effort by the Muslim community in February and March to raise money for vandalized Jewish cemeteries in the US. El-Messidi's partner in the effort was Sarsour.
The fundraising effort was a response to a widely-reported wave of antisemitic attacks after Donald Trump's victory in the 2016 presidential elections. Most of the attacks turned out to be hoaxes, but the anti-Trump movement sought to make maximum political use of the story. In that context, Sarsour and other activists set a goal of raising $20,000 from the Muslim community for the repair of Jewish cemeteries that had been vandalized, and exceeded their goal.
The Algemeiner noted that some of the money Sarsour raised did reach its intended targets. Specifically, $50,000 to repair two Jewish cemeteries and a synagogue that had been vandalized was indeed delivered. But the additional money that was promised for the restoration of the Golden Hill Cemetery has allegedly not yet been received.
Hikind issued a statement Tuesday evening:
"Sarsour is a fraud," said the Assemblyman. "She talks out of both sides of her mouth. One minute she's claiming to be a disciple of the great Dr. Martin Luther King Jr., and the next she's standing with a terrorist on stage at an event [ Rasmea Odeh], and singing praises of that terrorist to an audience. I won't be the least bit surprised to hear that her little Jewish cemetery publicity stunt wasn't quite what she made it out to be."

…

"I understood that Sarsour's fundraiser was just a publicity stunt meant to mask her efforts to hurt the State of Israel while glorifying her terrorist pals in various Tweets and speeches," said Hikind. "But I also hoped that the money she raised would at least help these cemeteries. After all, Sarsour has no loss of affection for dead Jews. But this new report raises questions about where the money went. Perhaps if this story gets out, the shame will cause Sarsour to direct the funds to the people it was promised to. Then again, shame implies an elevated sense of self-awareness, and someone who glorifies terrorists is rarely sullied by a scruple."
Sarsour has not responded directly to Hikind or to the claims in the Algemeiner article. However, on Tuesday, she took to Twitter to threaten the Algemeiner with a lawsuit. She also linked to an article in May in which she responded to earlier criticisms by Hikind, proving donations to the three cemeteries that had been vandalized. (The article also said money would be given to the Colorado cemetery, but that money has allegedly not been paid.)
.@Algemeiner is just begging for a defamation lawsuit. This is not the first time I had to answer outlandish claims. https://t.co/MW9iHlMdgE

– Linda Sarsour (@lsarsour) July 11, 2017
.@Algemeiner thinks they can just post whatever they want without getting the facts straight. Didn't bother asking. This is getting old.

– Linda Sarsour (@lsarsour) July 11, 2017
Sarsour then went on a rant, claiming that she and her family had suffered "trauma" from what she called "lies":
fwiw, I am not distracted. https://t.co/rkADtrBMZv

– Linda Sarsour (@lsarsour) July 12, 2017
Last weekend, Sarsour sparked national criticism by calling for " jihad" against the Trump administration. She responded to her critics in an op-ed in the Washington Post, claiming that she was a victim of "Islamophobia."
Joel B. Pollak is Senior Editor-at-Large at Breitbart News. He was named one of the "most influential" people in news media in 2016. He is the co-author of How Trump Won: The Inside Story of a Revolution, is available from Regnery. Follow him on Twitter at @joelpollak.