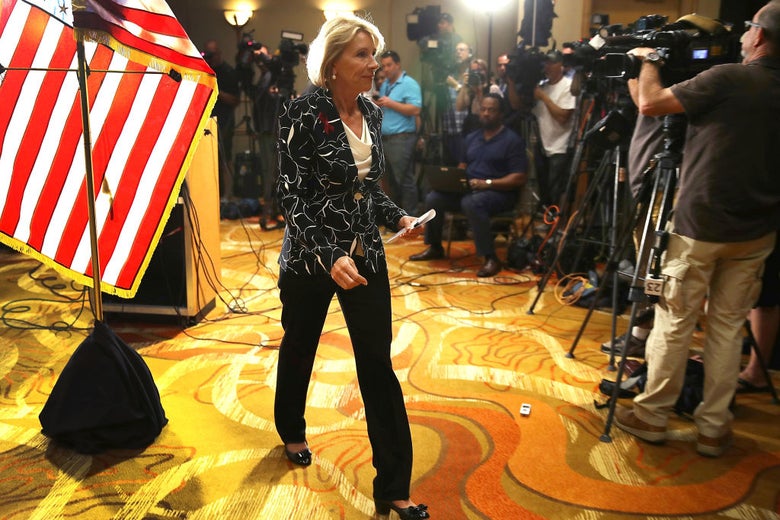 Education Secretary Betsy DeVos visited Marjory Stoneman Douglas High School in Parkland, Florida, on Wednesday morning. While the event was closed to members of the media, DeVos said afterward that she was accompanied by student reporters during her time at the school-an account that was disputed by one of those reporters, a senior named Carly Novell:
One student from each publication (tv prod./newspaper/yearbook) was able to see her and take pictures of her, no one followed her. We are part of a school publication and it's our job to report on a public figure visiting the school. https://t.co/zE48UAFZky

– carly (@car_nove) March 7, 2018
Novell says DeVos did not, in fact, take questions from any Parkland students:
I thought she would at least give us her "thoughts and prayers," but she refused to even meet/speak with students. I don't understand the point of her being here

– carly (@car_nove) March 7, 2018
The Los Angeles Times' Joy Resmovits says meanwhile that DeVos' press conference after the visit-held at a nearby Marriott-ended abruptly:
DeVos leaves the press room after answering only a few questions following her visit to MSD:

OH from reporters:
"Hmm?"
"Are you kidding me?"
"That was so abrupt."

That's all, folks. I'll be looking to see what @car_nove and #MSDstrong Eagle Eye reporters write.

– Joy (@Joy_Resmovits) March 7, 2018
A video posted by a writer from the Daily Beast indicates that DeVos' press conference lasted about eight minutes, during which time she took five questions:
Education Secretary @BetsyDeVosED only answered around five questions during her press conference here in #Parkland #Florida I was lucky enough to get one of them along with a follow up. You can watch here https://t.co/6IWW7kn0Jr #BetsyDeVos

– James LaPorta (@JimLaPorta) March 7, 2018
As you can see, DeVos avoided endorsing or really even addressing any of the specific school/gun-safety policies, ranging from arming teachers to re-banning assault rifles, that have been proposed since the Parkland attack.